Since Omicron first emerged in late November, teams of scientists in the UK and beyond have been racing to understand it. The results so far suggest that this new variant is producing a very different epidemic – which means that our approach to it also needs to change.
Dr Clive Dix,  the former chairman of the UK's vaccine taskforce, has called for a major rethink of the UK's Covid strategy, in effect reversing the approach of the past two years and returning to a "new normality". "We need to analyse whether we use the current booster campaign to ensure the vulnerable are protected, if this is seen to be necessary," he said. "Mass population-based vaccination in the UK should now end, and Covid should be treated as an endemic virus similar to flu".
Dix's remarks on ending mass-vaccination come as the Joint Committee on Vaccination and Immunisation (JCVI) ruled that fourth doses were not currently needed because most older people who had received boosters were still well-protected against Omicron, three months after the booster campaign began. The UK Health Security Agency said protection for over-65s was about 90%, three months after a booster jab. The JCVI's deputy chair, Professor Anthony Harnden, said the committee was monitoring the impact of Omicron on older and vulnerable people on a weekly basis.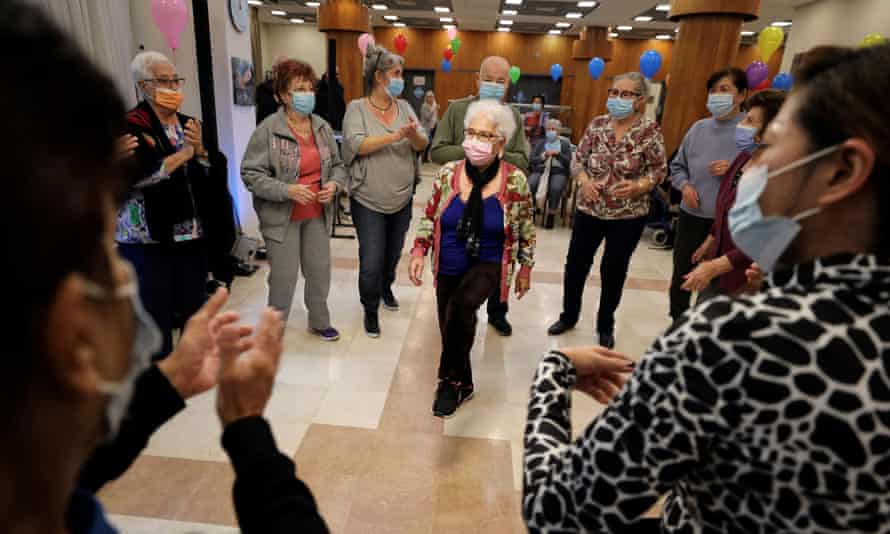 A debate is unfolding over fourth doses. Last week, Israel became the first country to embark on a fourth round of Covid vaccinations, for over-60s and healthcare workers who had their third jab at least three months ago. Greg Clark, the Tory chair of the Commons science and technology committee, said a fourth dose of vaccine should be considered for healthcare workers, adding: "The UK Health Security Agency found that the impact of a third dose against transmission of Covid wanes after 10 weeks. So, given the staff shortages in the NHS from self-isolation and the fact that NHS staff received their booster from mid September, it would be worth the JCVI considering whether a further dose would help reduce absences among frontline staff."
Dix said the government should support research and analysis of how effective vaccines had been at producing "memory B- and T-cell immunity" – parts of the immune system that recognise Covid – and particularly how they worked for over-60s and vulnerable groups with underlying health conditions. "With this data in hand, we should influence manufacturers who have vaccines that have shown the most durable cellular responses to develop an Omicron and a Delta variant vaccine to cover the current mutation lineages," he said, adding that Prof Paul Moss and the Covid Immunology Consortium had provided "excellent groundwork" for this.
Professor Eleanor Riley, professor of immunology and infectious disease at the University of Edinburgh, said: "Everything depends on whether another variant comes up. "A fourth dose or second booster of the existing vaccine probably isn't going to achieve very much. The evidence is that immunity against severe disease is much longer lasting. The only justification for doing a second booster for the majority of the population would be if we saw clear evidence of people, five or six months after their booster, ending up in hospital with severe Covid."
Health experts are also concerned that the take-up of the booster vaccine last month was driven by the public's wish not disrupt their festive season. Now that fear has gone, it has removed some of the drive to take up the vaccine. In addition there is a widespread perception that Omicron is milder and less worrying, added Simon Williams of Swansea University. "We call 'variant fatigue' which translates as people saying 'this is what viruses do; we just need to get on with our lives.' It's not great from a public health perspective." click full source.
So there we have it. There needs to be a clear over-arching strategy on how the management of the pandemic this year, as it moves to an endemic disease. This is no easy task for Government, with conflicting opinions from politicians of all parties, and conflicting scientific advice. Only time will tell which way we go.