Yesterday was my 75th Birthday, and we celebrated in Cardiff as we did last year. Normally, we would be abroad on a City break visiting Christmas markets or on a cruise. Sadly, the pandemic has put paid to this. Here in Wales, the number of Omicron cases stands at 15, with a further 15 cases reported today. Obviously, this a gross under-reporting of the situation, and there are 4,713 confirmed cases of the Omicron variant in the UK. However, the UK Health Security Agency (UKHSA) estimates that the current number infections is around 200,000 per day. Omicron has risen to more than 44% of cases in London and is expected to become the dominant variant in the City in the next 48 hours. Today, the UKHSA confirmed one person had died, and that 10 people had been admitted to hospital in England with the Omicron variant, their ages ranged from 18 to 85 years old, and the majority had received two doses of a Covid vaccination. click full source.
My birthday celebrations in my hotel room in Cardiff were interrupted at 8.00pm last night, when Boris Johnson made a 5 minute National announcement on TV. The prime minister's language was dramatic, warning people that the pandemic is again an 'emergency' with a 'tidal wave' now coming of the omicron variant. He called on all of us to have that booster dose as soon as humanly possible or, the NHS could be overwhelmed by a terrible new wave of the pandemic. The booster is the defence against what's coming was his argument. The responsibility was therefore on all of us to come forward for another dose of the jab. The practicalities he promised sound like a huge expansion of the scheme. Instead of all over 18s in England being offered a booster by the end of January, the new target is that they'll be offered one by the end of this year…in 18 days time…..a rate of over 1 million per day !!
Mr Johnson said in order to reach the new jab target, certain other medical appointments would need to be postponed to the New Year. Some GPs are already allowed to postpone routine health checks to make space for vaccinations.
The prime minister also said:
42 teams from the military would be deployed across every region to help the effort
extra vaccine sites and mobile units would be set up across England
opening hours of clinics would be extended with more appointments
thousands more volunteer vaccinators would be trained
the UK government would also give extra support to speed up vaccinations in Scotland, Wales and Northern Ireland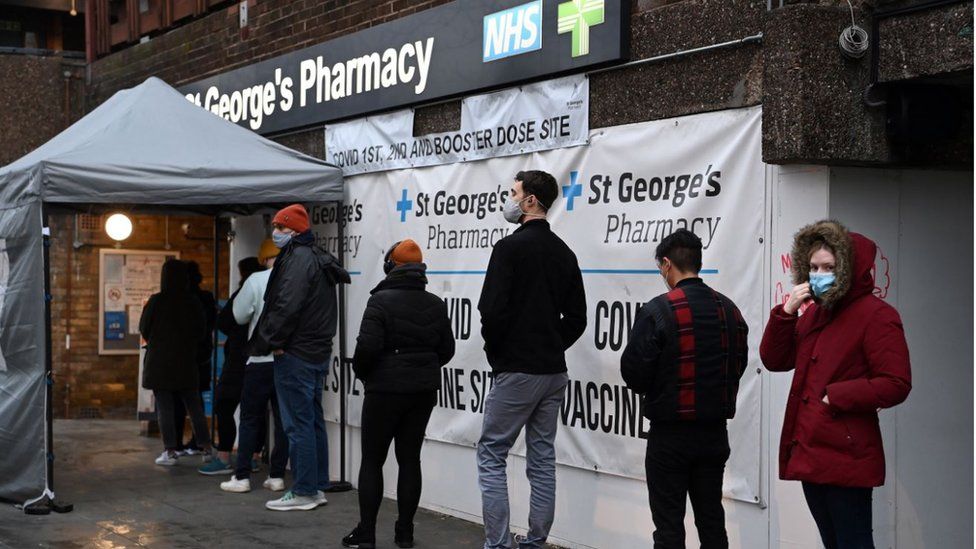 As a consequence of the PMs announcement, thousands of people trying to book their Covid booster jabs in England has led to the NHS website crashing, with more than half a million people booking their booster jab today. Long queues of up to 7 hours at walk-in vaccine centres in England were reported today. click full source.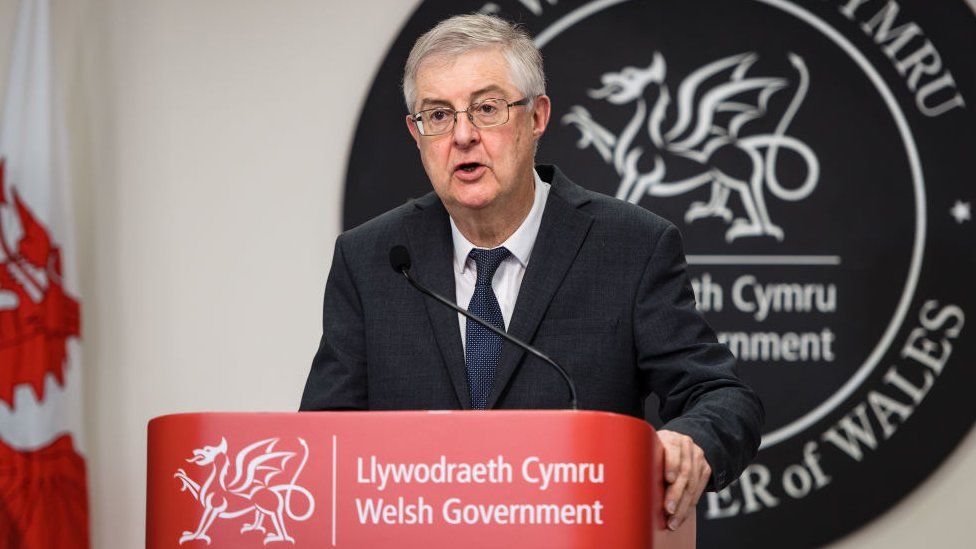 The Welsh NHS plans to offer all eligible adults a booster jab by the end of the year if it can, First Minister Mark Drakeford said this evening in a televised address. He warned of new restrictions and said ministers may "need to take more steps to keep Wales safe"., and is expected to confirm if changes are needed to the coronavirus regulations this Friday. Wales' chief medical officer Dr Frank Atherton warned the Welsh government may reimpose rules to reduce people mixing. click full source.
So there we have it. Omicron will become the dominant variant here in Wales and the UK well before Christmas. Whether the "National Omicron emergency booster mission" will prevent the 4th wave is unlikely, and the NHS is likely to be overwhelmed. The only rays of hope are reports from South Africa that Omicron is less deadly than Delta. Only time will tell.