Health chiefs in England are urging UK ministers to move ahead with "plan B", reintroducing some of the rules and guidance abandoned in the summer, to avoid "stumbling into a winter crisis". The NHS Confederation said a back-up strategy, or Plan B, which includes mandatory face coverings in crowded and enclosed spaces, should be implemented. Business Secretary Kwasi Kwarteng said it was not time for Plan B yet and urged greater uptake of booster jabs. He said he did not want further lockdowns or to jeopardise the "hard-won gains" of reopening the economy. "I don't want to inject any hint of complacency but I think so far our approach is working" he said, pointing to lower rates of hospital admissions and deaths than in earlier waves of infection. Daily Covid cases have been above 40,000 for eight days in a row, with 49,139 new infections reported on Wednesday, and, as of Tuesday, there were 7,891 patients in hospital. Plan B could see vaccine passports for clubs and big events, mask wearing indoors and people asked to work from home.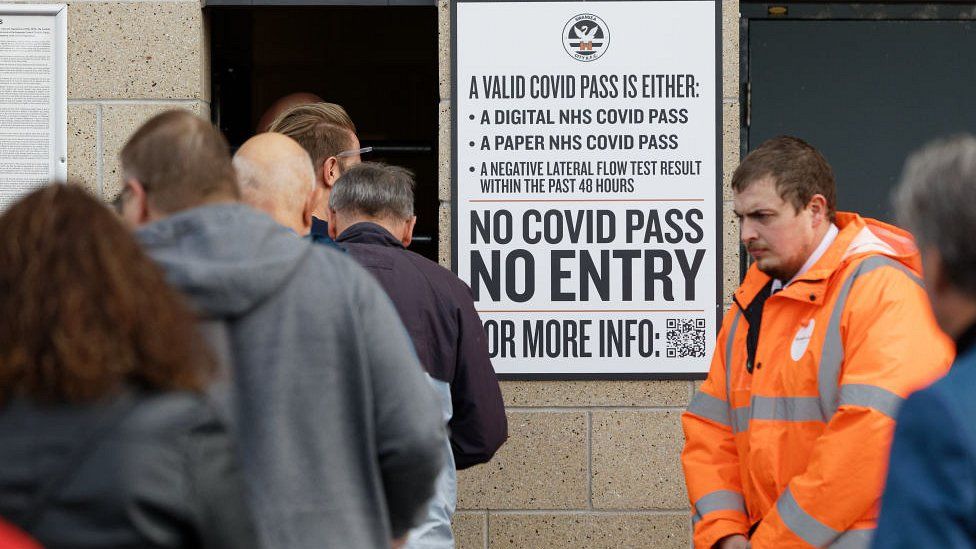 However, much of Plan B is already in place in Wales, where there is a different plan if the situation spirals out of control and hospital pressures become too much for the NHS to cope. If Wales is already over 35% ahead of England with Plan B measures already in place, it is hard to see how the introduction of Plan B measures in England will stem the infection rate.
In Wales, Mask wearing is the law in shops, on public transport and in hospitals and social care. The exception is in pubs, restaurants and nightclubs, where they are not mandated. People are also expected to obtain a NHS Covid pass if they are going to large events, a nightclub or a venue that's similar to a nightclub. It needs to show if they have had a recent negative lateral flow test (LFT) in the last 48 hours, or two vaccinations. It is not quite the same proposal for a vaccine passport seen in England, given the inclusion of LFTs. People are also advised to work from home if they can, although that is not law.
Wales' case rate stands at 617 per 100,000 people over seven days. It had been rising after falling from about 652 on 23 September, and in recent weeks has been higher than any other UK nation. Cases have also been rising in England – where the average was 447.9 – and in Scotland where it is 316.5.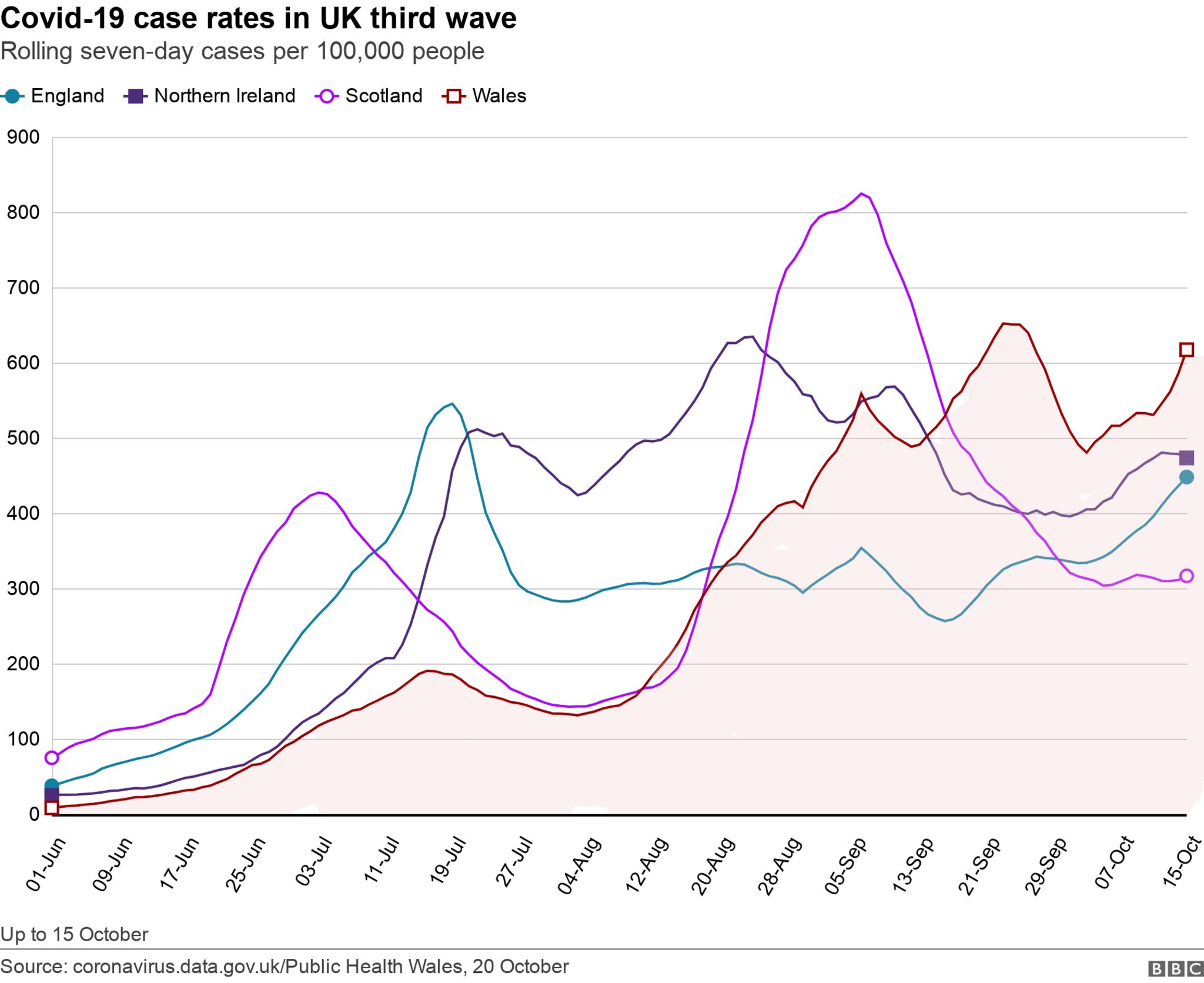 This means that the question about what could be done here in Wales is very different, and in some ways is much more profound. Should ovid get out of hand, do we return to restrictions on businesses and who we meet? Welsh Labour ministers have played down the need for a new lockdown, though, and are hoping to get through the winter with the measures we already have. But Plaid Cymru said the case numbers in Wales "should concern us all" and called for a plan. The Welsh NHS Confederation has warned action will be needed if it gets to the point the NHS is unable to cope. click full source.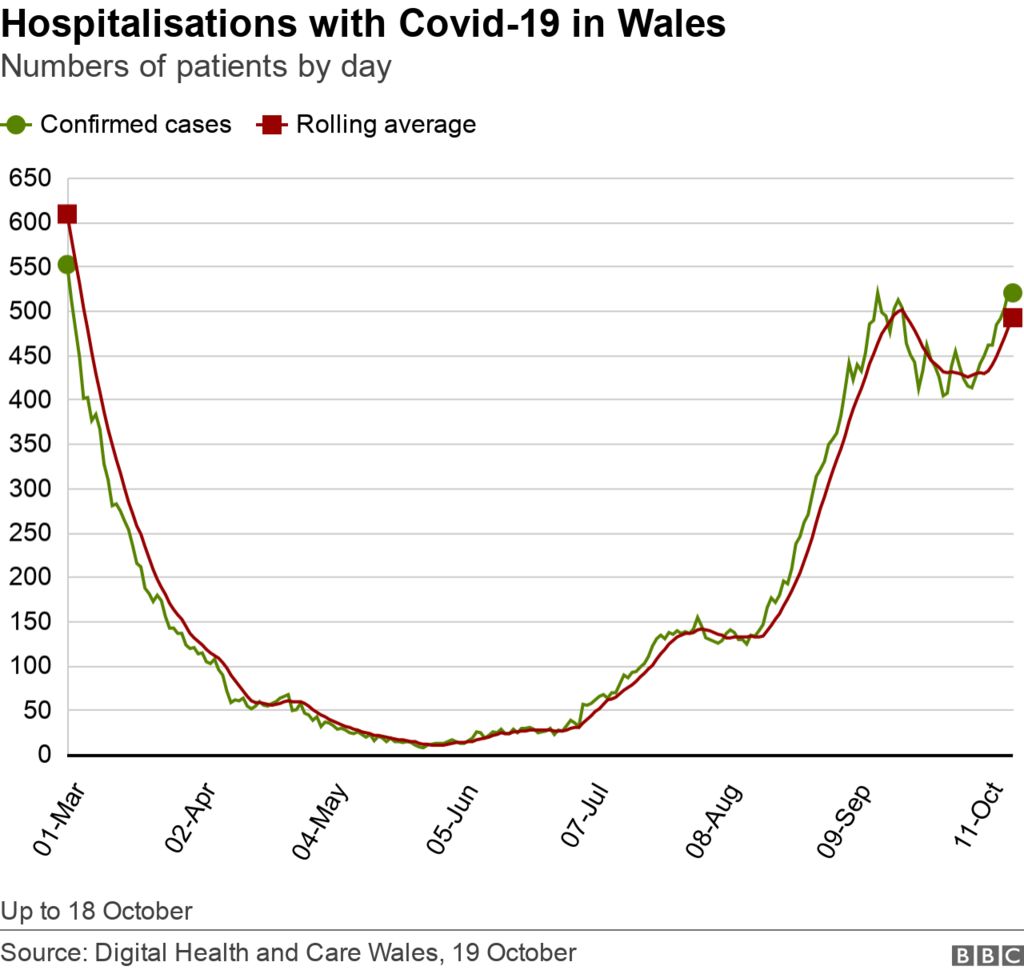 The vaccination programme has meant that numbers of people needing hospital treatment with Covid have been lower in the third wave than previously. However, they have been rising in recent days and the picture is more complicated with more non-Covid treatment taking place, stretching NHS services. Figures rose to a daily average over seven days of 498 hospital patients with confirmed Covid on Tuesday – 15% up on the week before. Bed occupancy – the proportion of beds with patients in them compared to beds available – has hit 90%, a high point during the pandemic. Pressure on the NHS has always been a key indicator in the past for whether the Welsh government acts to impose restrictions. But at this point in the second wave in 2020 the hospital rate was three times higher.
So there we have it. As we see in Wales, Plan B type measures are unlikely to help in England, and remaining at Plan A level will certainly not help. The booster programme seems to be the only answer, which is progressing too slowly. We have our boosters scheduled for November 2nd.