US intelligence agencies have not been able to determine if the coronavirus pandemic was the result of an accidental leak from a lab or if it emerged naturally, according to declassified portions of a report to the White House. In a statement, President Biden said the United States would continue working to understand the origins of the virus and he called on China to be more transparent about what led to its emergence there in late 2019 before spreading rapidly across the globe. "We will do everything we can to trace the roots of this outbreak that has caused so much pain and death around the world, so that we can take every necessary precaution to prevent it from happening again.. "Critical information about the origins of this pandemic exists in the People's Republic of China, yet from the beginning, government officials in China have worked to prevent international investigators and members of the global public health community from accessing it."
After the review, the National Intelligence Council and four other intelligence agencies reported that they believed the virus that causes Covid-19 was most likely created by "natural exposure to an infected animal through an animal infected with it, or close progenitor virus." On the other side of the debate, only one un-named agency said it had concluded, with moderate confidence, that the pandemic was the result of "a laboratory-associated incident" in China. According to the declassified report, analysts at that agency gave weight to the risky nature of work on coronaviruses. The agency also said the accident most likely involved "experimentation, animal handling or sampling by the Wuhan Institute of Virology."
The intelligence agencies all agreed that the virus was unlikely to have been created as any kind of biological weapon, the same stance the U.S. government has maintained for more than a year. The agencies also agreed that the initial exposures that caused the outbreak occurred "no later than November 2019," according to the declassified conclusions. Critical to the debate over the origins of the virus, American intelligence officials do not believe the Chinese officials knew about it at the time of the outbreak. Click full source.
In a separate bizarre twist to the debate, a disinformation campaign has gained popularity in china, claiming that the Covid-19 virus originated from an American military base in Maryland.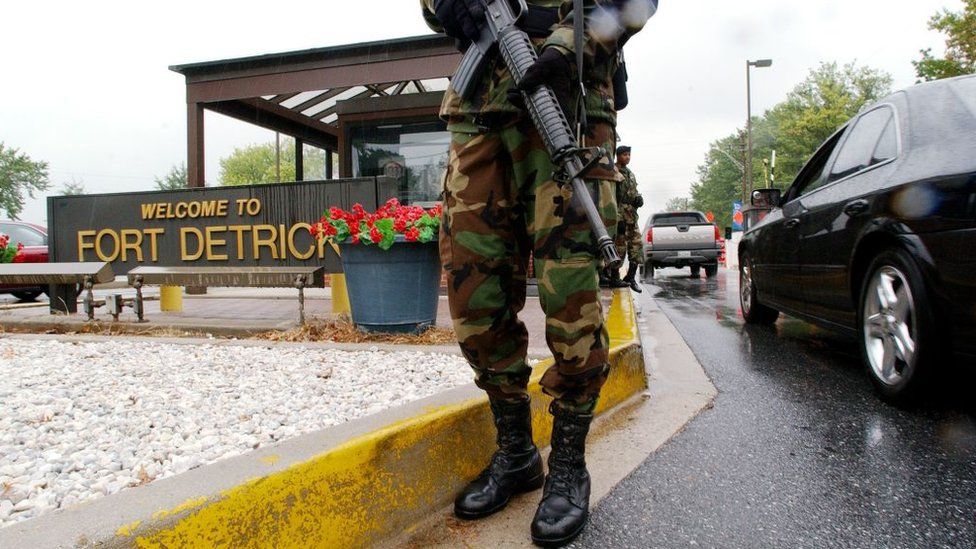 Fort Detrick was once the centre of the US biological weapons programme, and it currently houses biomedical labs researching viruses including Ebola and smallpox, and its complicated history has sparked speculation in China. A rap song by the Chinese nationalist group CD Rev suggesting nefarious plots being hatched by the lab was recently endorsed by Zhao Lijian, the Chinese foreign ministry spokesman. The rhythms of the song -"How many plots came out of your lab/How many dead bodies hanging a tag/What are you hiding/Open the door to Fort Detrick" – are awkward, but its sentiment "speaks our mind," Mr Zhao wrote in a tweet in August. click full source.
So there we have it. The US intelligence agencies cannot agree on the source of coronavirus, with the majority in favour of its origin from a natural source, and the Chinese counter propaganda and misinformation campaign against the US, citing their previous biological weapons laboratory as the source. However, it is well known that the National Institute for Allergy and Infectious Diseases in the US funded scientists at the Wuhan Institute of Virology and other institutions for work on gain-of-function research on bat coronaviruses. In 2019, with the backing of NIAID, the National Institutes of Health committed $3.7 million over six years for research that included some gain-of-function work. The program followed another $3.7 million, 5-year project for collecting and studying bat coronaviruses, which ended in 2019, bringing the total to $7.4 million. click source. Only time will tell whether coronavirus emerged from nature or whether it escaped from a lab funded by collaborative work between China and the US.