Nearly a year ago, a study produced by a team at Oxford University indicated that some parts of the United Kingdom may already have reached herd immunity from coronavirus. A significant fraction of the population, according to the study published last week, may have "innate resistance or cross-protection from exposure to seasonal coronaviruses", making the proportion vulnerable to coronavirus infection much smaller than previously thought. The Oxford team is led by Sunetra Gupta, a professor of theoretical epidemiology. In recent months, she has argued that the cost of lockdown will be too high for the poorest in society and questioned the language and quality of debate on the pandemic's impact. Click full article.
This very interesting question and answer session on herd immunity provides compelling opinions on why herd immunity had been reached by July 2020, and yet a year later, there appears to be no signs of this happening anytime soon. How can this be ? …… unless herd immunity cannot be achieved with this new disease, despite vast numbers of the population who should have developed natural immunity through infection and over 80% of the population having been partially or fully vaccinated.
According to the latest report from the Office for National Statistics (ONS), the UK is experiencing a marked increase in new Covid infections, driven by the delta variant, which now accounts for 99% of cases, according to Public Health England. Around two-thirds of adults have now been double jabbed against the virus, which is helping prevent large rises in Covid hospitalisations, although admissions are increasing. Many of the infections being seen are among teenagers and young adults, for whom covid represents very little danger. An estimated 400,000 people in the UK are thought to have been positive in the week to 3 July. Despite this, the final step of unlocking is expected to go ahead as planned on 19 July in England. This will be confirmed on 12 July after a further review of data.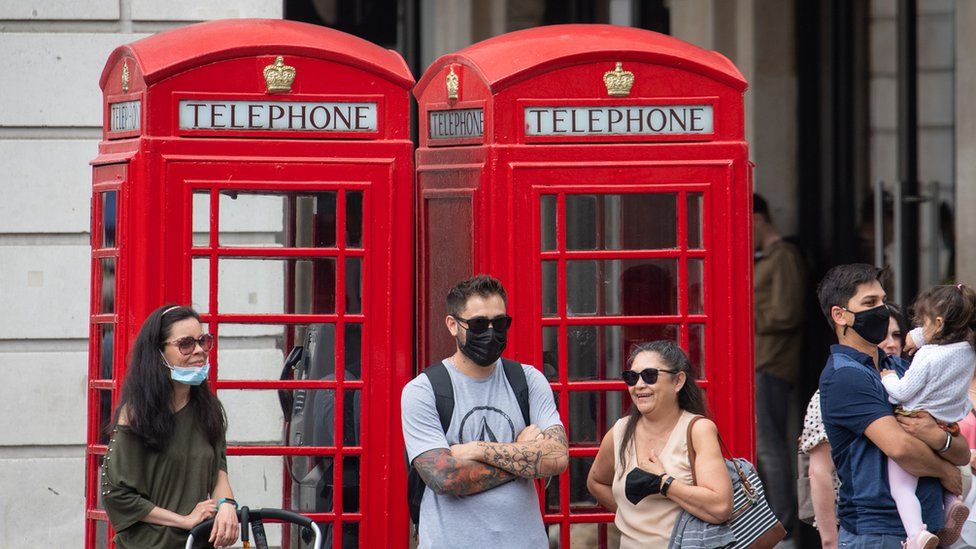 According to the ONS Infection Survey findings for the week to July 3:
In England, one in 160 people had the virus – up from one in 260 in the previous week and the highest level since the week to 19 February
In Scotland, it was one in 100 people – up from one in 150 and the highest level since the week to 16 January
For Wales, it was one in 340 people – up from one in 450 and the highest level since the week to 27 February
In Northern Ireland it was one in 300 people – up from one in 670 and the highest since the week to 3 April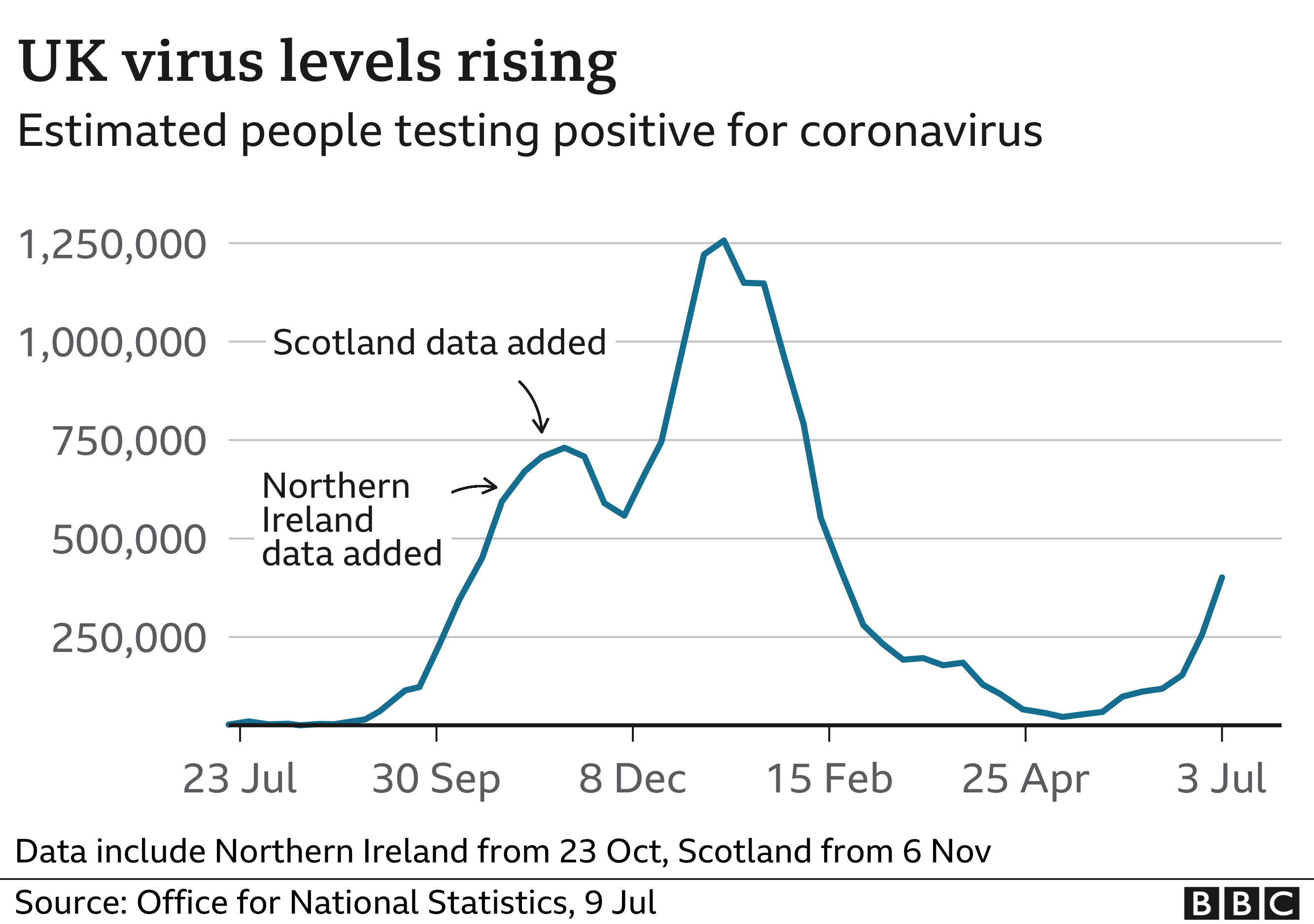 Dr Jenny Harries, chief executive of the UK Health Security Agency, said the sharp increase in cases being seen had not been followed by a similar increase in hospitalisation and death, suggesting the vaccines were working well. "Two doses of the available vaccines offer a high level of protection against the Delta variant. Click full BBC article.
Medical leaders have warned that Covid will get worse before it gets better with cases "rising dramatically". In a statement the academy, which represents 23 medical bodies responsible for training and development in various specialties, said it was essential that people took a responsible approach when restrictions were formally lifted. The academy said there were reports of routine care being postponed due to healthcare professionals isolating amid mounting pressure as people who had stayed away from the NHS during the pandemic now sought treatment. It added that the growth of long Covid as well as the backlog of elective work which had built up during the crisis meant that "it is like the worst of a bad winter in July". "There is no doubt that we will get to a position when this dangerous and erratic disease is largely under control for the population as a whole and we can 'learn to live with' Covid-19. "However, we are not in that position yet and sadly, we have to expect things to get worse again." click full source.
So there we have it. As I posted the other day, Professor Paul Hunter from the University of East Anglia has said that "Covid will never go away, – It's inevitable that we're going to catch it repeatedly for the rest of our lives, whether we have had the vaccine or not". If he is correct, I guess this means that herd immunity will never be reached either nationally or internationally world wide – quite a depressing thought.