A higher proportion of Wales' population has had a dose of a Covid vaccine than any other country with more than a million people. It is quite the contrast with January, when questions were being asked about the sluggish start to vaccinations. In Wales, more than half of 18 to 29-year-olds have had at least one dose of a vaccine, and in some counties, more than two-thirds of people in this age group have been given a first dose, including Conwy county (72.1%).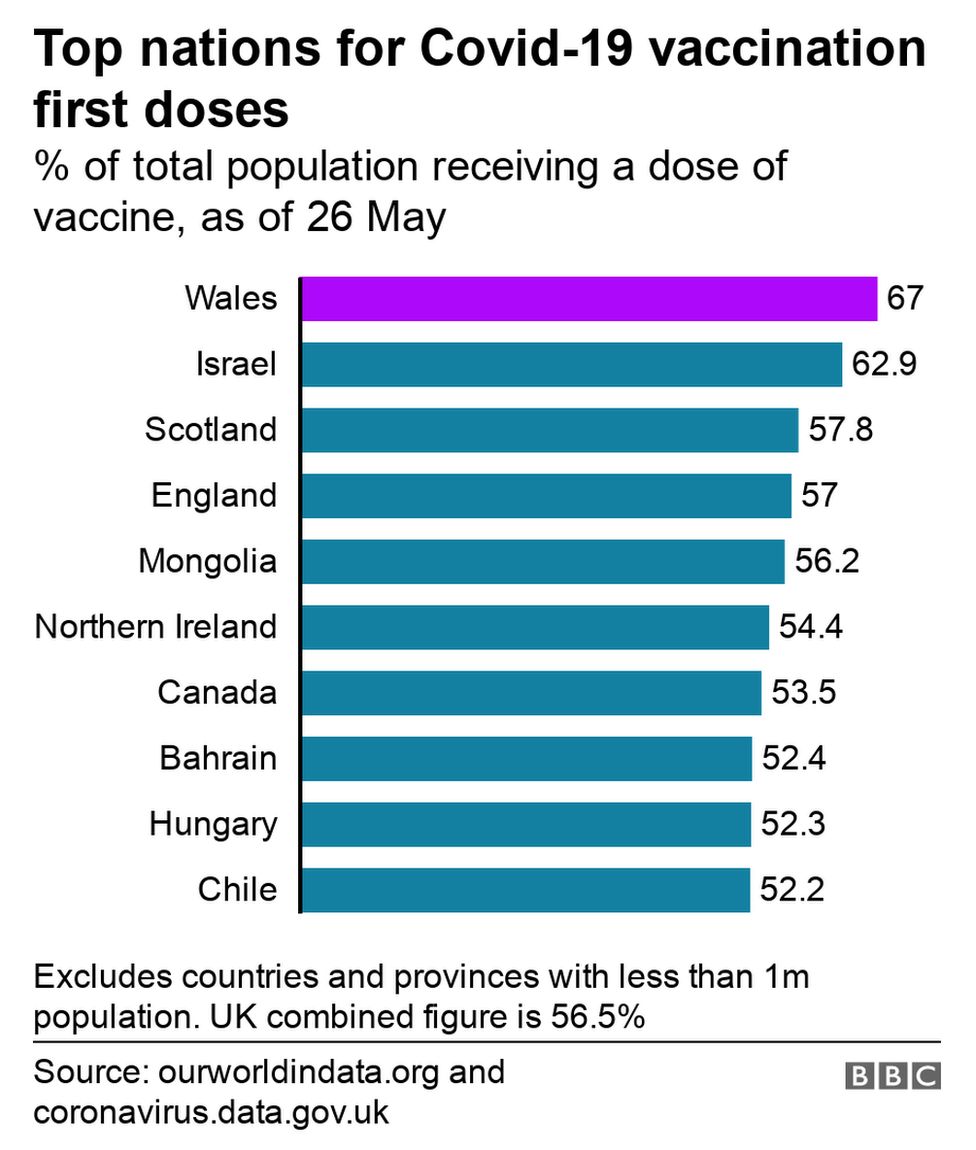 Wales is also pushing on with its second doses and has set daily records over the past two days, including 20,715 second doses on Wednesday. A total of 2,120,049 people (67.2%) have now been given a first dose of a vaccine and 1,058,464 people (33.6%) have had a second jab, according to Public Health Wales (PHW) figures. After the slow start, Wales had caught up with England and Scotland by early February, and since 7 April it has been ahead of all the other UK nations.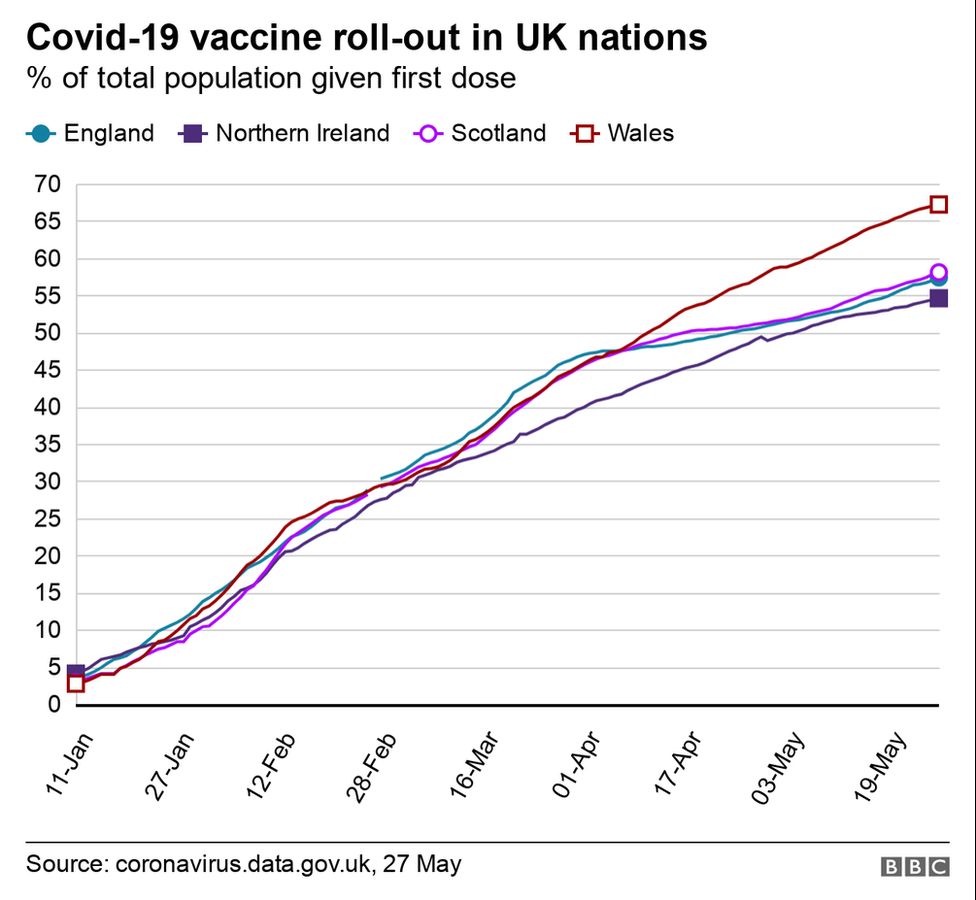 The Welsh government expects all adults to have been offered a first dose of a Covid-19 vaccine "over the next couple of weeks" – more than a month ahead of schedule. Along with other UK nations, Wales had committed to offering a first dose to all over-18s by the end of July. click full article.
In the meantime, up to three quarters of new UK Covid cases could be of the Indian variant, Health Secretary Matt Hancock has said. Public Health England data shows cases of the variant have risen by 3,535 to 6,959 since last week. Today, a further 3,542 coronavirus cases and 10 deaths within 28 days of a positive test were reported in the UK, which is the second day in a row that the number of new Covid cases has topped 3,000 – the first time infections have reached this level since mid-April. Over the last seven days, cases are up 20.5% compared with the week before.
The Indian variant is clearly becoming dominant in the UK, replacing the Kent variant that caused the deadly winter surge. However, the bigger question, though, is to what extent the rise of this variant matters. Overall, cases are going up – but this was expected at this stage of the easing because of the green light for indoor mixing. A more infectious variant – as this one seems to be – will put even more upward pressure on infections.
So it comes down to two things – how much more infectious it is and to what extent the vaccination programme has weakened the link between cases and hospitalisations given over half of adults are still waiting for their second vaccination and a quarter have not had their first. A rapid surge in infections has the potential to cause real problems as it will allow the virus to find those that are still at risk.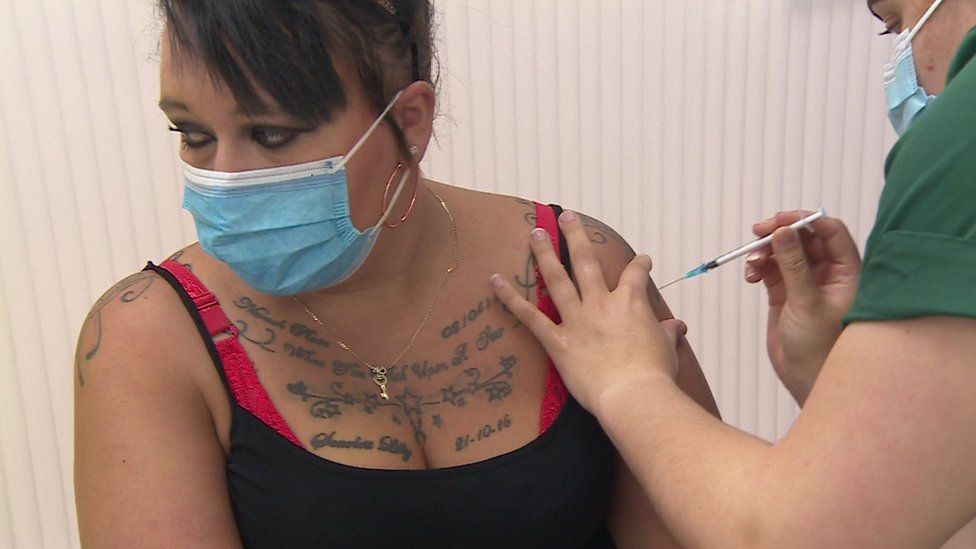 There are plenty of reasons to hope that will not happen given how well advanced the vaccine programme is, how low infection levels are (we have one of lowest rates in Europe) and the arrival of warmer weather which should mean more time outdoors. But as always with this virus nothing can be taken for granted. click full source.
Back in early May, I posted that we had booked a holiday to Iceland, one of the few countries on the green list. Today, we had to cancel as Jackie's knee operation has been expedited to June 23rd when we would have been in Iceland. Luckily, we had only paid the deposit, which we have converted to a British Airways voucher for a future trip !!