A year ago today, 30 January, the World Health Organization declared the outbreak of the new coronavirus as Public Health Emergency of international concern – the highest level of alarm under international law. At the time there were 98 confirmed cases and no deaths reported outside China. All countries were repeatedly urged to capitalise on the "window of opportunity" to prevent widespread transmission of this new virus.
A few countries heeded these and earlier warnings and did very well. Most countries did not. This is confirmed by the tragic milestones reached this week, including the deaths of more than 2 million people and more than 100 million confirmed cases and rising.
A year on from the start of the pandemic, the WHO has suggested that there is a new window of opportunity to "reset the clock" by making vaccine delivery equitable to all nations. This must be grasped with both hands and equity must be prioritised. All "at-risk" people in all countries, especially health workers, older people and those with underlying medical conditions, need access to vaccines – not all people in some countries.
Rich nations have made bilateral deals with manufacturers to vaccinate entire populations, sometimes several times over. This has left all countries under huge domestic pressure to start immunising their populations, with little choice but to try and make their own arrangements. This has resulted in manufacturers prioritising more profitable deals with rich countries, rather than support equitable rollout of vaccines to all countries.
The World Health Organisation has urged the UK to pause its vaccination programme after vulnerable groups have received their jabs to help ensure the global rollout of doses is fair. Boris Johnson has said he aims to offer all adults in the UK a first dose by autumn. However, the WHO said countries should be aiming for 2bn doses to be "fairly distributed" around the world by the end of 2021. A WHO spokeswoman, Margaret Harris, said she wanted to appeal to people in the UK, telling them: "You can wait" because ensuring equitable global distribution is "clearly morally the right thing to do".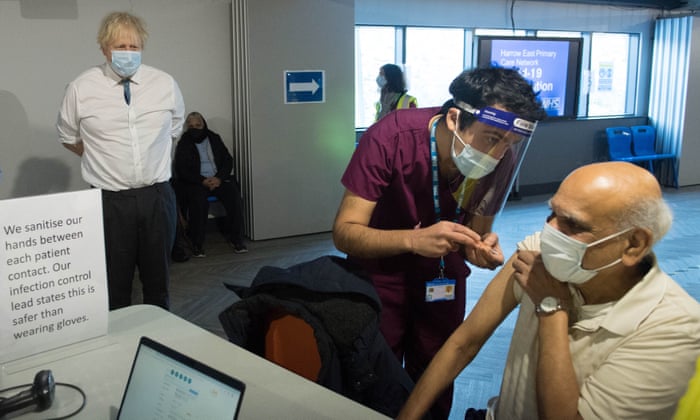 The UK has one of the highest levels of vaccine coverage, along with Israel and the UAE, but many poorer countries are yet to start any immunisations. We're asking countries, once you've got those [high-risk and healthcare worker] groups, please ensure that the supply you've got access to is provided for others. While that is morally clearly the right thing to do, it's also economically the right thing to do. "There have been a number of very interesting analyses showing that just vaccinating your own country and then sitting there and saying 'we're fine' will not work economically.
WHO directors have previously said that vaccine nationalism could cost high-income countries $4.5tn (£3.3tn), while a report commissioned by the International Chamber of Commerce Research Foundation found that the world economy could lose $9.2tn if developing countries did not get access to vaccines. Sir Jeremy Farrar, a member of the government's Scientific Advisory Group for Emergencies (Sage), has also warned that vaccinating "a lot of people in a few countries, leaving the virus unchecked in large parts of the world, will lead to more variants emerging". He has argued that countries with existing vaccine supply deals could donate a percentage of doses to the WHO's Covax global vaccine-sharing fund "without taking away from the national effort to protect the most vulnerable in society and healthcare workers".
To stay ahead of the virus, we must prioritise science, especially as we see new variants emerge. To address this, we cannot let up on testing, even as the virus is spreading far and wide. Governments must increase genomic sequencing capacities, which are not available widely enough, leaving many countries unaware of mutations of the virus. Click here and click here for both source articles.
So there we have it. After yesterdays fracas between the EU and the UK about the distribution of vaccines between rich countries, it is hard to see how the UK will heed the WHO and release the majority of our vaccine portfolio (247 million doses to date) to poorer nations after our 15 million priority groups have been vaccinated with 2 doses (30 million doses). This would leave over 200 million doses to be donated, whilst other priority front line groups such as teachers, police and shop workers remained unvaccinated. This is politically impossible and would probably not be accepted by the population as a whole.
However, I would suggest that the issue needs to be subject to public debate and widespread consultation of some sort of proposal, as we clearly do not need nearly 250 million doses. The pandemic needs to be quashed in all countries before we can return to widespread world travel and full economic activity.