Update 26th January
Riot police in the Netherlands have again clashed with protesters defying a curfew, for the 3rd night running, following a weekend of unrest. The violence on Sunday was described by Dutch police as the worst unrest in four decades. More than 150 people were arrested, local media say. In Rotterdam, the police fired warning shots and tear gas, after an emergency order issued by the mayor failed to move demonstrators. click full article
When Spain announced a State of Alarm on 14th March last year, introducing emergency restrictions and a draconian lockdown, my first thoughts were that we should get home as soon as possible, as I feared social unrest and rioting could occur quite quickly. We caught a repatriation flight a week later and needless to say, my initial fears were unfounded.
Surprisingly, there has been very little social unrest in Europe over the last 10 months of the pandemic, but this changed at the weekend when rioting erupted in the Netherlands in a number of cities. Rioters attacked police and set cars and bikes on fire to protest against a curfew introduced on Saturday. In the southern city of Eindhoven, protesters threw fireworks, looted supermarkets and smashed shop windows. There were smaller protests in Amsterdam, and in some cities and towns around the country. click full article.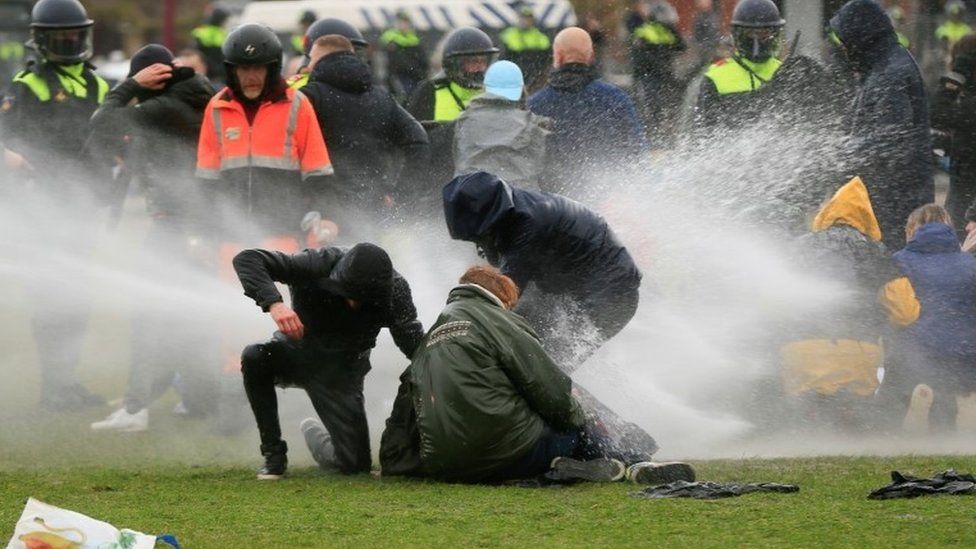 The Dutch government had just introduced its toughest measures since the start of the pandemic – including a night-time curfew which runs from 21:00 (20:00 GMT) to 04:30, the first in the Netherlands since World War Two. Some people are finding it difficult to accept that the Netherlands has been forced to introduce the draconian measures it initially dismissed. Bars and restaurants have been shut since October, while schools and non-essential shops closed last month, and a ban on flights from the UK, South Africa and South America has been put in place due to fears over new variants of the virus.
There have been more than 962,000 cases and 13,646 confirmed deaths from Covid-19 in the Netherlands. As of today's Worldometer reported numbers, the death rate per million pop is 791 compared with the UK's 1,447 and Spain's 1,186.