When I started this blog back in April last year, I wanted it's main purposes to be pulling together and curating alternative views that were not always covered by the relentless 24 hour news coverage of the Mainstream media. I also wanted to avoid any fake news, conspiracy theories, misinformation or propaganda, but this is becoming increasingly difficult to identify.
Looking back on recent posts over the last few weeks, I see that I am increasingly relying on mainstream media sources, such as the BBC and the Guardian, although I am now starting to question whether or not they are guilty of government propaganda, and exaggerating the severity of the pandemic at this point in time. For example :
For example, this BBC headline on 9th January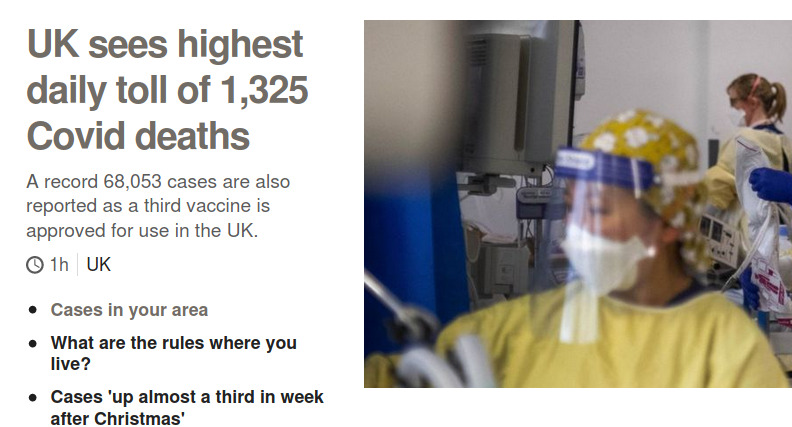 However, these headline numbers are by "date reported" ie 9th January, and include a backlog of previously unreported deaths. The correct number by "date of occurence" is 630 (3rd January) and 242 (8th January) with a reporting lag.
This interesting graph and analysis shows that the 1041 deaths reported on 6th January were not from the last 24 hour period, but were made up of 22 from early December, 118 from the pre and over Christmas period, and 326 after Christmas, leaving the true number reported on 6th January for the 5th January as 154, leaving 421 cases between 5th and 6th January.
This sort of extrapolation is also true of the numbers reported on 7th and 8th January although how they are spread over the previous days and weeks has not been published by AdapNation, although there would be similar iterations over the previous days.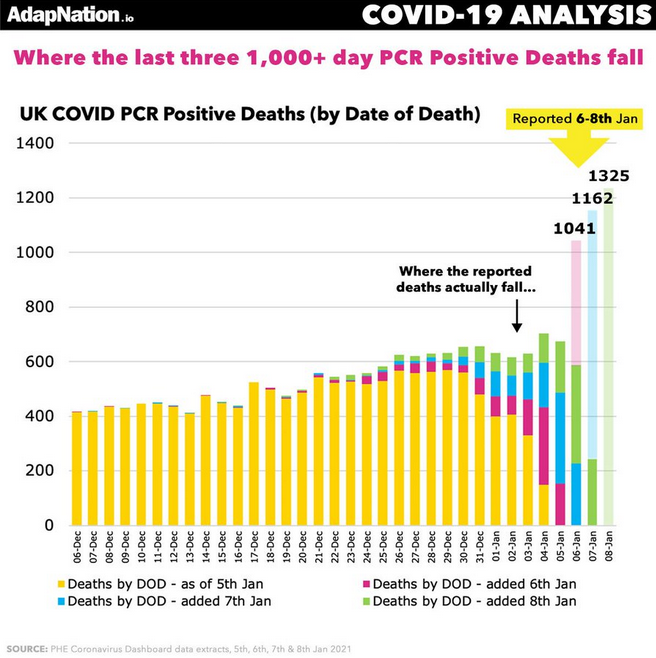 So there we have it. What are the correct reported numbers? What is not clear is if numbers of deaths are redistributed retrospectively on the official graphs, which would accurately flatten the curve of the graph. Although there is no doubt that numbers of cases and deaths are rising, and the NHS is under sustained pressure, the rate of increase of new infections is falling, certainly in Wales and London according to the Zoe app. Time will tell.
The sources for today's post InProportion2 and AdapNation may be considered to be alternative sites, but all the analysis and reporting appear to be reasonable rather than misinformation or conspiracy theories. Click on the links and judge for yourself.