Belatedly, and in line with most other countries, all travellers (including UK citizens) arriving in England from all international destinations will have to test negative for Covid-19 before entering the country. Travellers arriving from abroad will be required to have proof of a negative test taken a maximum of 72 hours before travel. Scotland plans to introduce similar rules and Wales and Northern Ireland will follow suit at some point next week.
These measures will come into force next week. The Government has resisted this measure for many months on the basis that it served no purpose as we already had high rates. The reason for the change is that it is important to prevent the new South African variant arriving in the country. The requirement applies irrespective of whether a travel corridor is in place, affects all passengers arriving by boat, train or plane. Passengers will need to present proof of a negative test result to their carrier on boarding, while the UK Border Force will carry out spot checks at arrivals. Travellers must still complete a passenger locator form before arrival.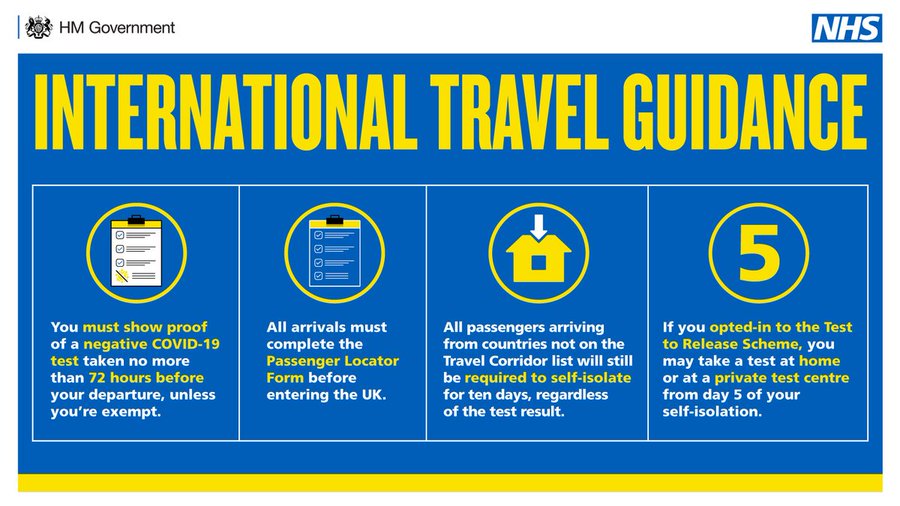 The Government has not given a specific date, but said the new rules will apply "from next week". Legislation is being drafted at pace in time for next week, and there will be a "limited" number of exemptions, including for hauliers, children under 11, crews and those travelling from countries without the infrastructure available to deliver the tests.
Unfortunately, there are already 29 known cases of the South African mutation in the UK, so this new measure maybe a case of "shutting the stable door after the horse has bolted". Time will tell.