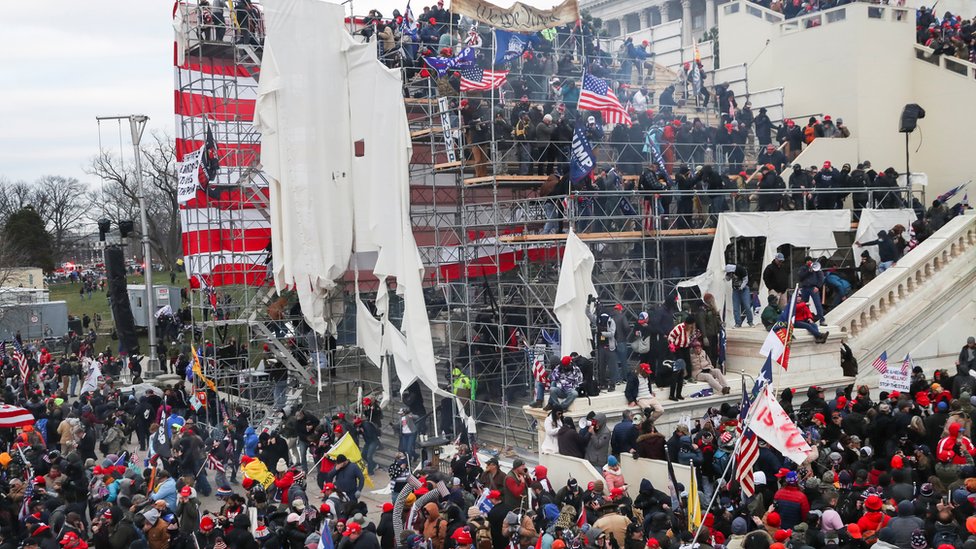 In the midst of the surging pandemic, shocking scenes this evening after a rioting mob of President Trump's supporters stormed the US Capitol, stopping the confirmation of Joe Biden as President elect, and forcing the evacuation of lawmakers. Four people died and there were multiple injuries. Trump eventually told the people attacking the Capitol to go home — but immediately added that "we love you, you're very special."
It came on a day when a record 4,100 deaths and 260,973 new cases of coronavirus were announced and yet Trump was focussing his attention on his baseless claims about the "stolen election" and inciting violence and rioting to support his claim, rather than focussing on the pandemic.
The UK reported 1,041 deaths and 62,322 new cases of coronavirus, also record numbers, and the highest since the peak of the first wave in April last year. If these numbers were replicated in the United States, based on their population, these numbers would be 5,080 deaths and 304,131 new cases, over 20% higher than the UK. Numbers of people in the UK were reported at over 30,000 for the first time compared with 132,476 in the US. Again, if UK numbers were replicated in the US based on their population, the number would be 146,400, about 10% more.
So there we have it, Despite three draconian lockdowns, tiered restrictions, social distancing and mask-wearing in the UK, compared with the more laissez faire restrictions in the US, again incited by Trump, new cases (+ 16%), deaths (+23%) and people in hospital (+10%) are higher than the US. The reasons for this are not clear. Instuitively, one would expect numbers in the US to be far higher than the UK and despite everything, they are not.
America has yet to be hit by the new variant of coronavirus, which could be the main reason to explain the numbers. If this is the case, I guess we can expect higher rates or coronavirus in the US if the UK or South African mutations take hold. Time will tell. Another problem for the Biden administration.
It's official: Congress has formally recognized Joe Biden's victory
After a chaotic day, the election result stood. click full source