Four NHS Trust Chief Executives, all speaking on condition of anonymity, have backed an immediate rethink by the Joint Committee on Vaccination and Immunisation (JCVI) on which groups should get vaccinated first, to give staff the same priority as the over-80s. Soaring rates of sickness among frontline personnel are threatening to intensify the NHS' growing winter crisis. Doctors and nurses are asking their hospitals to vaccinate them, but are being told they will have to wait until early 2021 because the over-80s and care home staff are the top priority.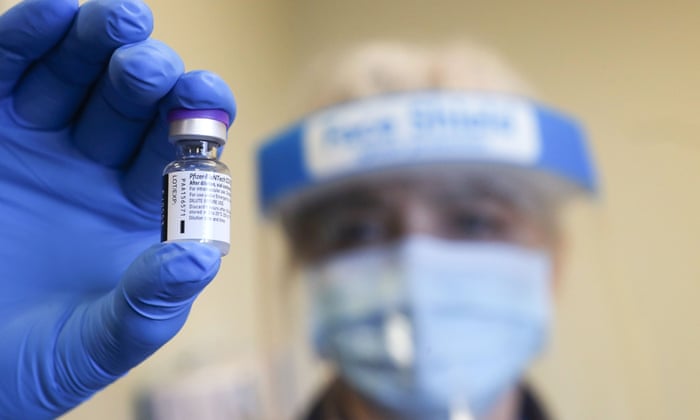 Hospital trust chief executives say staff believe their wait to have the jab is unfair, and that they feel let down and exposed to danger because they are dealing with a sharp increase in the number of Covid patients. One chief executive said: "Frontline  NHS staff should absolutely have been in the first wave [of priority groups] for the added protection this would give to them and, crucially, their patients. There is a growing sense of frustration among staff who feel let down and now a sense of inequity because of the way it's being distributed." Another said: "There is growing disquiet in the NHS about how we have ended up prioritising people at the end of their lives for the vaccine over and above the NHS workers who are actually trying to care for them. It's very, very odd." click full source
Some Trusts in England and wales are having to curtail routine non-covid treatments, and redeploy staff to front line covid work. The resurgence of Covid means already understaffed hospitals are grappling with unusually high absence rates, leaving hundreds of staff off work either sick or isolating. Some are so worried about having too few staff on duty over Christmas and New Year, that they are asking staff to give up pre-booked festive leave to come into work, and others are offering cash incentives to try to attract volunteers. Staff are also coming forward to train as vaccinators, creating dilemmas whether to use them to vaccinate, or to continue caring for patients on wards with depleted staff?
So there we have it. Do we vaccinate the elderly and vulnerable in order to stem the flow of acutely sick patients, or vaccinate the staff to ensure there are sufficient numbers to treat them without the NHS collapsing. Ideally, both groups should have equal priority, but with limited vaccine supply at the moment, choices have to be made. The Oxford Astra Zenica vaccine with its advantages of Supply and easy distribution and storage is urgently needed to resolve the dilemma.