Doctors have warned that the Christmas relaxation of lockdown rules "makes no sense" as Covid-19 cases continue to rise, and have recommended an "urgent" national lockdown in Wales before Christmas, warning that critical care would be unable to cope without urgent action.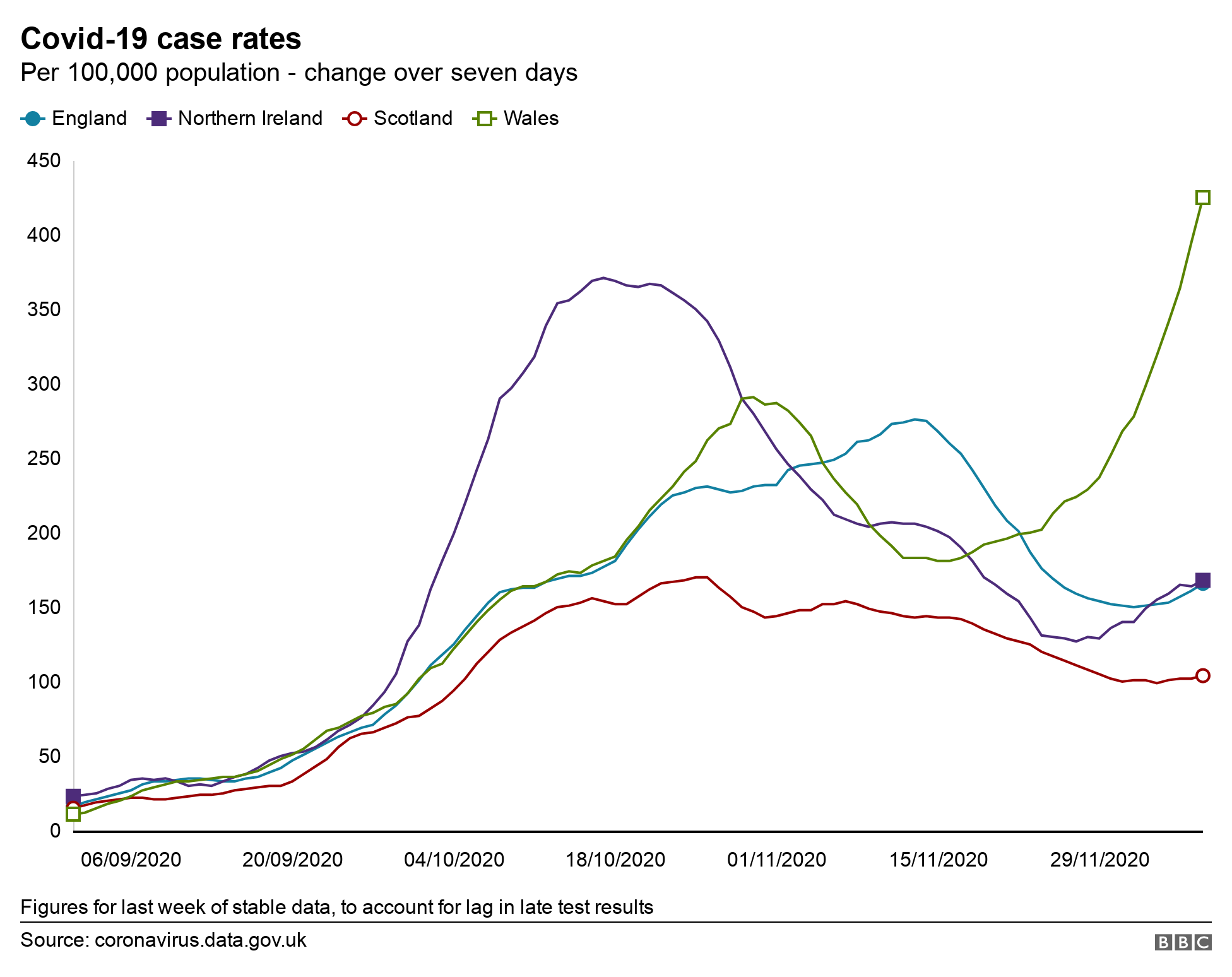 Wales has the highest Covid-19 infection rate in the UK – a seven-day average of 425 cases per 100,000 – and eight of the UK's top 10 worst infected areas are in Wales with Merthyr Tydfil (822), Neath Port Talbot ( 722) and Bridgend (649) the top three, with Newport at 621 per 100,000 not far behind.
However, up to three households can stay together and form a "Christmas bubble" from 23 to 27 December, all four UK nations have agreed.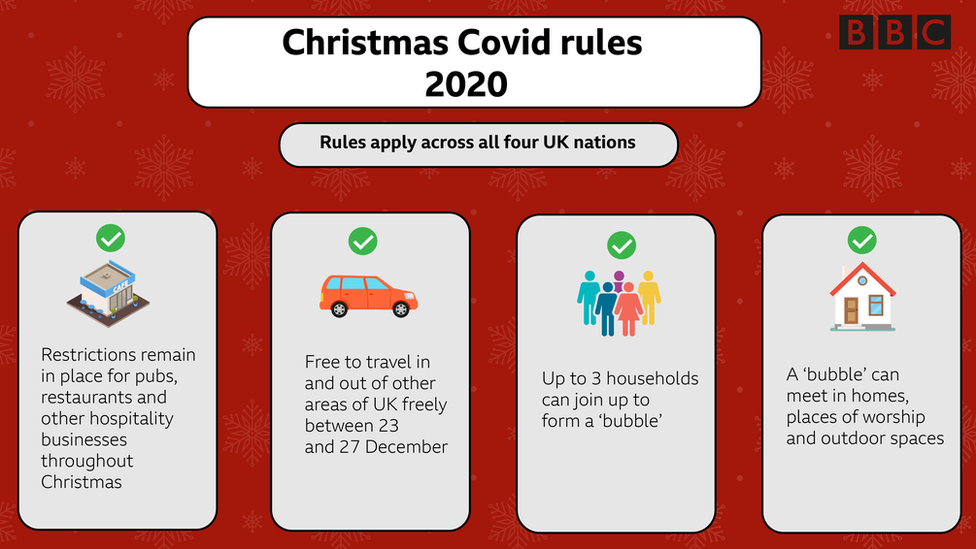 In a letter to the health minister, the Welsh Intensive Care Society chairman Dr Richard Pugh warns critical care services will not be able to cope over the winter period without intervention "at the highest level". "It makes no sense viewed from a perspective of front-line staff and public health." With 190 critical care beds already being used – almost half by coronavirus patients – Dr Pugh said critical care was already over-capacity.
"Welsh critical care services will be unable to manage rising demands relating to Covid-19, to maintain emergency non-Covid activity, and to continue providing peri-operative care for high risk urgent surgical cases in coming weeks without intervention at the highest level." click full source
In the meantime, Greater London and parts of Essex and Hertfordshire will move into tier three restrictions from midnight. This is the strictest tier of coronavirus rules and means the closure of pubs and restaurants except for takeaway and delivery, and tighter rules on household mixing. It means that from Wednesday, more than 34 million people will be living under tier three rules.
Two leading medical journals have said the UK government's plan to ease Covid rules over Christmas is a "rash decision" that will "cost many lives". Despite this, the Government has said it would not review plans to allow household mixing over Christmas. But a minister warned people to keep social contact to a "minimum" over the five days of reduced restrictions.
There will be continuing pressure over the coming week for the Government to reverse this decision, coming from the medical and scientific community. Germany and the Netherlands have announced strict lockdowns over Christmas with much lower transmission rates than the UK, particularly Wales. click full article.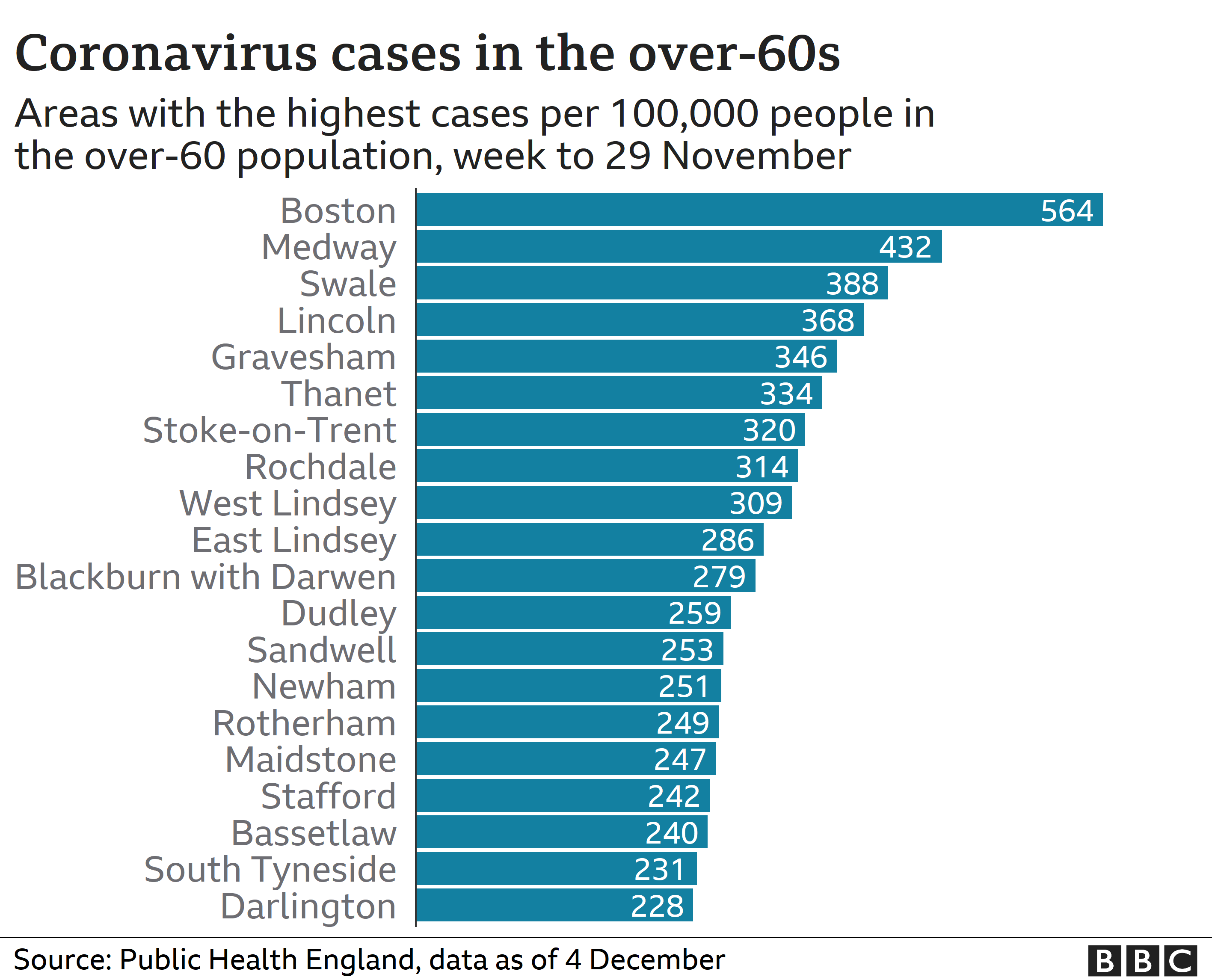 With rising rates in young people, it might be that the Government is starting to follow the recommendations of the Great Barrington Declaration allowing herd immunity to grow in the young and healthy population. However, the main thrust of public health measures with this approach should be to protect the elderly and vulnerable ie focussed protection. Without focussed protection policies, the doctors and scientists are probably right and that many lives amongst the elderly and vulnerable will be lost in the New Year.