Welsh pubs, restaurants and cafes will be banned from serving alcohol from Friday, 4th December and will have to close by 18.00 hours (6.00pm). However, businesses can offer a takeaway service after 18:00, and if they have an off-licence can sell takeaway alcohol up until 22:00.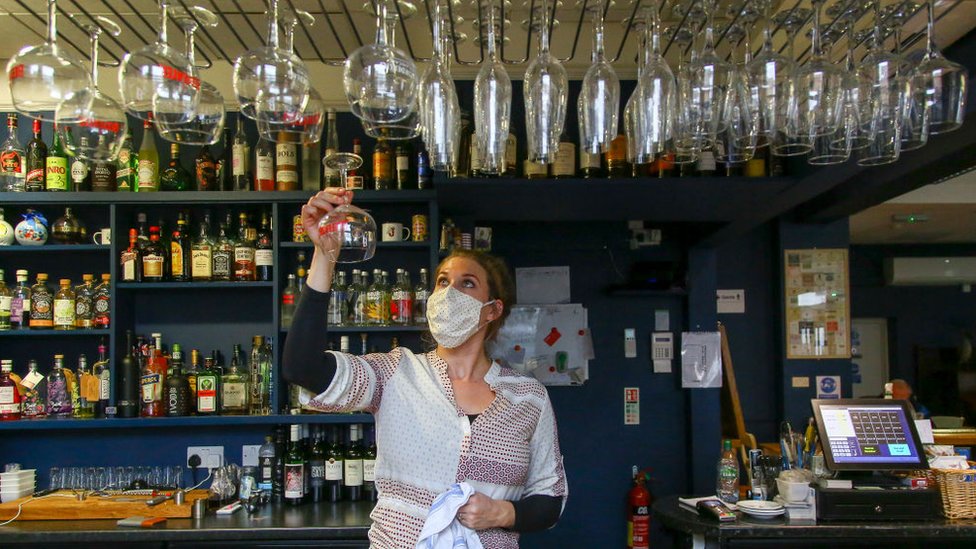 It reminds me of the of the old Australian song "A pub with no beer" originally by Slim Dusty and more recently, by the Dubliners. The chorus and first verse tell the story :
Chorus: Well it's lonesome away from your kindred and all
By the camp fire at night
Where the wild dingos call
But there's nothin' so lonesome
Morbid or drear
Than to stand in the bar of a pub with no beer
Now the publican's anxious for the quota to come
And there's a far away look on the face of the bum
The maids got all cranky and
And the cooks acting queer
What a terrible place, is a pub with no beer
Youtube link A Pub with No Beer by Slim Dusty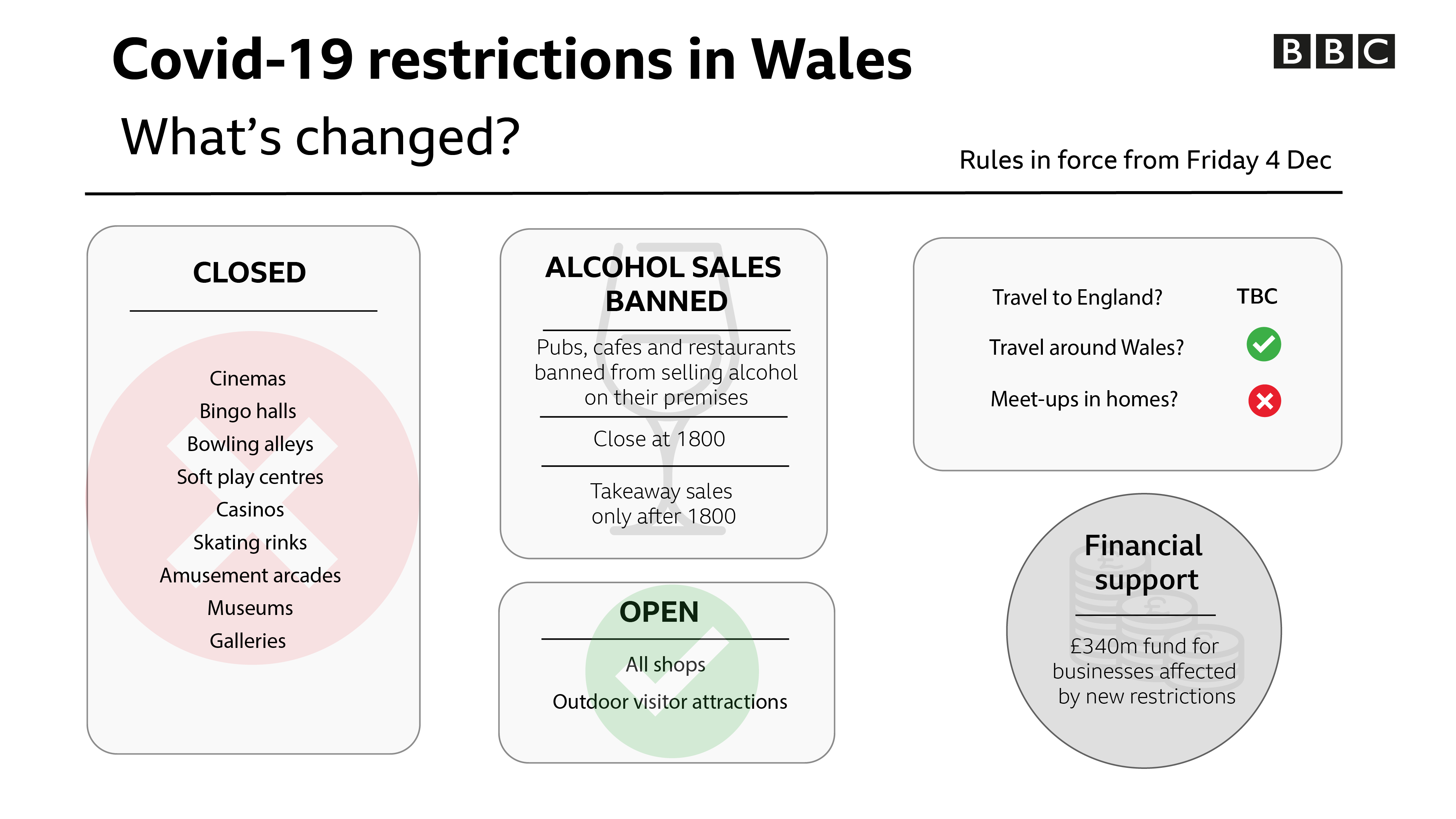 Current restrictions on travel into England, implemented while a lockdown is in place over the border, are being reviewed. The first minister said he would make a further announcement later this week. The restrictions are similar to the restrictions on hospitality within level three areas in Scotland, and the rule allowing four people from four different households to meet indoors in pubs and restaurants will stay in place.
'Devastating blow'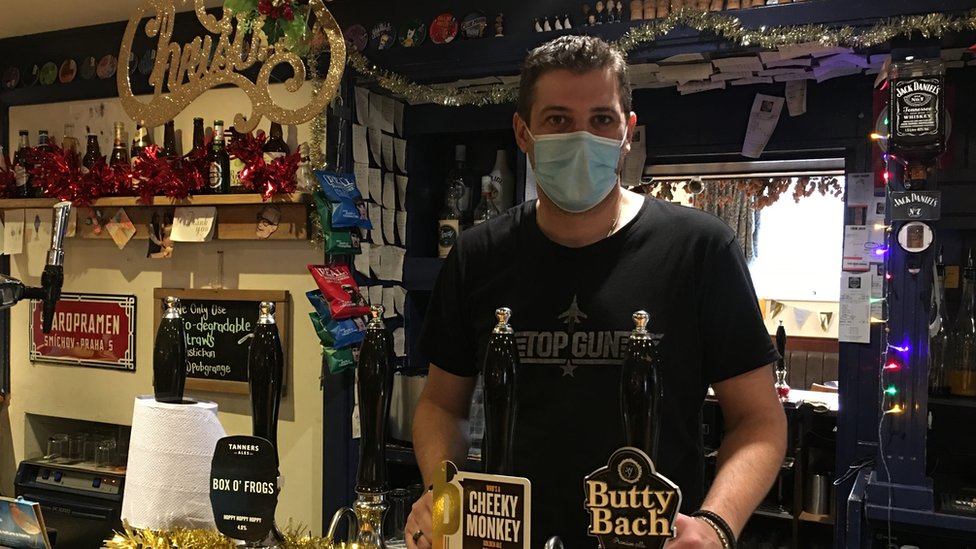 The chief executive of one of Wales' largest breweries says she wants the Welsh Government to prove that Covid is being spread in pubs and restaurants. "Where is the scientific evidence that you are more at risk in a pub than you are at home or in a supermarket?" said Connie Parry of Tomos Watkin brewery in Swansea.
Dai Dearden, general manager of The Grange pub in Cardiff, said the announcement was a "hammer-blow". "I think it will close us for the time being at one of the busiest times of the year", he said, adding it would have "a massive effect on the health and well-being, and mental state, of my staff and our customers".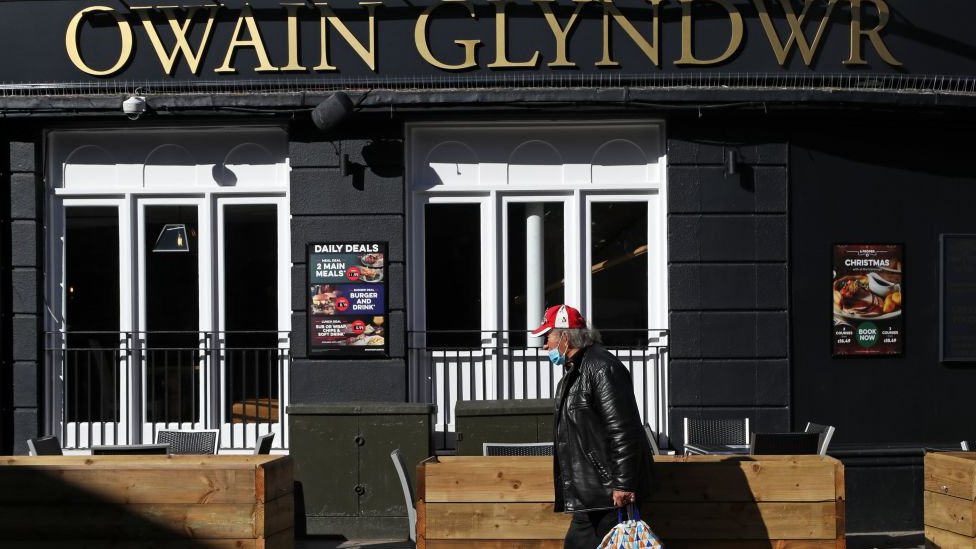 So there we have it. I will not be able to go out for a meal with wine for my birthday in a fortnight or so in Wales. However, there maybe the option of a hotel restaurant meal in England with wine depending on the First Minister's deliberations later this week.