The Trump covid-19 story has predictable dominated the headlines over the weekend, with conflicting statements, interviews and tweets on how he is doing, did he have oxygen etc etc..
The heavily guarded White House is one of the world's most secure properties with a new 13ft tall fence to keep out intruders, protesters and terrorists. Yet it was breached by the invisible pathogen that has killed more than 205,000 Americans. Commentators said there could be no greater proof of the administration's failure to combat the pandemic.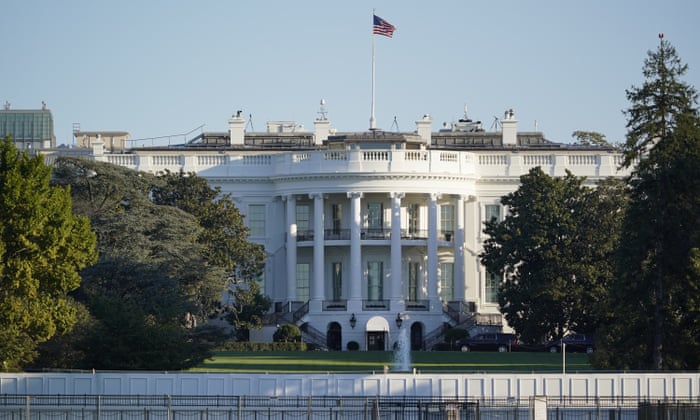 Trump, 74, is spending the weekend at a military hospital near Washington after discovering that not even the commander in chief of the world's most powerful country is immune to the coronavirus. Said to be feverish and fatigued, there is huge uncertainty over his condition, its potential to deteriorate and whether he might become incapacitated.
On Friday he was given an experimental drug cocktail injection and started a five-day course of the antiviral medication remdesivir. He was also given the steroid dexamethasone, which is normally reserved for serious cases, according to experts.
Tweets include : "Just as a recap, #Trump has received the following (AFAIK) – REGN-COV2 – Remdesivir – Decadron This does not sound like a person who was admitted to #WalterReedMedicalCenter as a "precaution". These are heavy duty medications being given to a person who is likely pretty sick".
As I type, Trump's doctors have confirmed that he had two oxygen dips, buy that he may be OK to return home to the White House tomorrow. However, if Trump isn't released tomorrow, it will appear his condition has worsened. There is speculation it is Trump himself who is pushing for an early release, as he is bored. Time will tell. Click source.
This was confirmed later this evening UK time, when Trump left hospital in his full motorcade, and medical experts questioned Donald Trump's decision to greet supporters in a drive-past outside the hospital where he is being treated for Covid-19.
Experts say the president's short car trip broke public health advice to quarantine when seeking treatment for the virus, and may have put Secret Service agents inside the vehicle at risk of infection.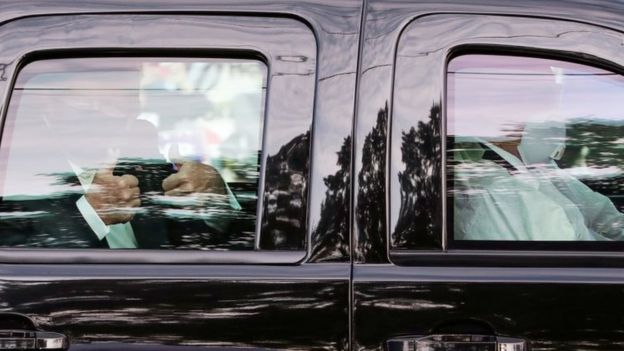 "That Presidential SUV is not only bulletproof, but hermetically sealed against chemical attack. The risk of Covid-19 transmission inside is as high as it gets outside of medical procedures," tweeted Dr James Philips, a doctor at the same hospital where the president is being treated.
Boris Johnson – "there is no alternative"
The Prime Minister gave a wide-ranging interview on the Andrew Marr show on Sunday. Commenting on the fact there are different lockdown measures in different areas, Mr Johnson said: "I totally understand people's frustration." More than a third of people in the UK currently live under some form of extra restriction following an increase in coronavirus cases.
The PM suggested what may happen if the Government "let it rip", responding to others he claimed had appeared on the programme earlier, saying local lockdowns are inappropriate or that restrictive measures are wrong. The fact that no-one on the programme earlier had even remotely said that was not picked up by Andrew Marr
He told Andrew Marr: "I just can't accept that. And as Prime Minister I couldn't take a course that could expose us to tens of thousands more deaths in very short order. "And, you know, we've got to continue to bear down on this virus, whilst protecting the economy. That's the balance we've got to strike." He also said he had not heard of any viable alternative to this strategy.
Of course, there are alternative strategies, as has been suggested by Professor Sunetra Gupta from the University of Oxford for the last six months. In her recent open letter to the Prime Minister signed by 32 eminent scientists, measures should be focused on protecting vulnerable people rather than everybody. Elderly people and those with serious medical conditions are most at risk, and policies could be tailored to protect them better.
'Given the high proportion of Covid deaths in care homes, these should be a priority. Such targeted measures should be explored as a matter of urgency, as the logical cornerstone of our future strategy.' Click for full letter