This personal Blog started on Good Friday, April 10th several days after our Prime Minister Boris Johnson was admitted to Intensive Care at St Thomas' Hospital in London, where he stayed for 3 days, thankfully discharged back to a general ward yesterday. This was a truly shocking moment during the Coronavirus Pandemic crisis. It showed how Covid-19 has no respect for boundaries, with the most powerful man in the UK fighting his own personal battle against a pernicious virus that China, and now the whole World, has been fighting since the start of 2020. It is a War against an invisible enemy and there are many battles ahead.
Today, President Trump and his wife tested positive for covid-19, having caught the virus from Hope Hicks, one of the President's advisors. Studies of patients from around the world have given doctors a good sense of who is most likely to shrug off a coronavirus infection and who is more likely to need hospital care. As an older male, president Trump is immediately in a higher risk category.
Men are nearly twice as likely to die from Covid-19 than women and data from the US Centres for Disease Control and Prevention (CDC) show that at 74 years old, Trump's risk of being hospitalised is at least five times greater, and his risk of dying 90 times greater, than for an average 18 to 29 year old. Given the very low death rates in younger people, a more meaningful figure is the infection fatality rate, or the risk of death on contracting the virus, which is 4.2% at age 75, and 14% at age 85.
At a medical in February, Trump weighed in at 243lbs.(17 stone 5 lbs). At six foot three, that puts his BMI at 30.4, just enough to qualify as obese. This adds further risk, tripling the odds of hospitalisation compared to people with a healthy weight, and raising the risk of dying by nearly 50%.
President Trump's infection appears to have been picked up before symptoms have arisen, so doctors will be able to monitor his condition closely and intervene early if his health falters. One drug that will be on hand is the antiviral remdesivir, which is thought to be more effective while the virus is still replicating, and before it has had the chance to progress to the lungs and cause more serious damage. Click here for source.
From the start of the announcement, conspiracy theories started to emerge, the main one being that the test result is a fake for which there is no evidence. In a long post on Facebook, documentary-maker Michael Moore suggested the president was using the virus to gain public sympathy. He said: "He needs badly to totally change the conversation about this campaign. And he just has. "He knows being sick tends to gain one sympathy. He's not above weaponizing this."
Others went further, claiming outright – albeit without evidence – that the diagnosis was fake. And some people suggested the announcement was a move designed to avoid further debates with Democratic presidential candidate Joe Biden.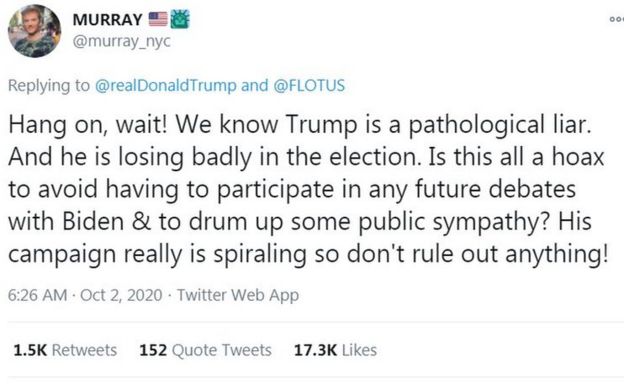 However, there is nothing to suggest that President Trump or the first lady are lying about their results. The diagnosis is an evaluation carried out by medical professionals and many people will have been involved in the process. Officials at the White House are now involved in a complex and elaborate process of contact tracing, a procedure that a BBC correspondent has witnessed.
The president's positive test means the illness is likely to dominate most of the rest of the election campaign. And as public polls indicate that a majority of Americans are unsatisfied with the president's response to the pandemic, a focus on Covid-19 would not appear to boost the chances of his re-election.