The Government's constant mantra is "the virus must be suppressed and contained at all costs". But how do you do this when people can be infectious without knowing they have it? Where it can be passed on silently because some people do not develop symptoms?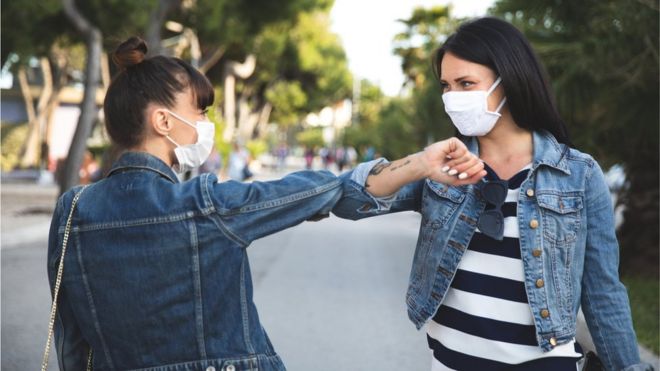 The nation has been brought to a standstill once at immense cost to the economy, education and overall health. Cases are continuing to surge in all four nations of the UK. Cardiff and the county of Swansea go into lockdown at 18:00 BST on Sunday. It means 1.5 million people, about half of Wales' population, will be under lockdown by the end of the weekend.
Cases in England are up 60% in the last week and In Leeds, Stockport, Wigan and Blackpool, additional measures will be introduced from midnight on Friday. London has been added to the Government's Covid-19 watch-list, meaning all of its boroughs are now classed as "areas of concern." This means about 25% of the UK population are living under some form of lockdown measures. Are we fighting a losing battle? Do we instead need to learn to live with the virus?
Prof Carl Heneghan, the head of the Centre for Evidence Based Medicine at Oxford University, says the current situation is "utter chaos" with a constant stream of new restrictions and schools sending whole year groups home when just one person tests positive. All this at a time when the level of infection is still very low.
This, Prof Heneghan says, is the consequence of trying to suppress the virus. Instead, he argues we should accept it is here to stay and try to minimise the risks, while balancing that against the consequences of the actions we take. "We need to slow down our thinking. Every time the government sees a rise in cases it seems to panic."
Clearly, within the scientific and medical community, there are strong and entrenched views on how to best manage the pandemic. The SAGE committee, which advises the governments of the four nations of the UK, believe coronavirus is best managed by measures to suppress transmission until a vaccine becomes available. The opposing view is that an alternative strategy should be considered – that society and the economy should return to a new normal operated by the approximate 90% of the population relatively unaffected by covid-19, whilst targeting measures that shield and protect the elderly and those with pre-existing medical conditions, including the obese.
Professor Sunetra Gupta, Professor of Theoretical Epidemiology at the University of Oxford, has co-authored a letter addressed to the Prime Minister, Chancellor and the Chief Medical Officers (CMOs) of England, Wales, Scotland and Northern Ireland as a "constructive input" into the government's policy response to the rising number of coronavirus infections.
The Gupta-led group have expressed their doubts over the UK government's localised and national lockdown approach to tackling a second wave of the coronavirus pandemic and recommend more targeted measures that protect the groups most vulnerable to covid-19. "In summary, our view is that the existing policy path is inconsistent with the known risk-profile of COVID-19 and should be reconsidered," notes the open letter.
"Instead, more targeted measures that protect the most vulnerable from COVID, whilst not adversely impacting those not at risk, are more supportable… Such targeted measures should be explored as a matter of urgency, as the logical cornerstone of our future strategy," the group says. They argue that because 89 per cent of COVID-19 deaths are in the over 65 group and are also concentrated in people with pre-existing medical conditions, these are the groups at which interventions should be targeted.
"This large variation in risk by age and health status suggests that the harm caused by uniform policies (that apply to all persons) will outweigh the benefits," the letter reads, warning that the effect on cancer treatment is especially acute, with people delaying or missing screenings, tests, or treatments.
However, Ms Gupta's team goes head to head with a contrary scientific point of view put forward in an open letter by Trisha Greenhalgh, Chair of Primary Care Health Sciences at Oxford University, signed by Edinburgh-based academic Professor Devi Sridhar, Chair of Global Public Health, Edinburgh Medical School, among 23 other academics. "We strongly support your continuing efforts to suppress the virus across the entire population, rather than adopt a policy of segmentation or shielding the vulnerable until "herd immunity" has developed," reads the letter addressed to the CMOs.
"Society is an open system. To cut a cohort of "vulnerable" people off from "non-vulnerable" or "less vulnerable" is likely to prove practically impossible, especially for disadvantaged groups… The goal of "herd immunity" rests on the unproven assumption that re-infection will not occur. We simply do not know whether immunity will wane over months or years in those who have had COVID-19," they write.
Their letter, published in the 'British Medical Journal", says that the UK may have to move flexibly between levels of restriction rather than either full lockdown or release, depending on how well the virus is controlled. They also flag that measures that would help control the virus while also promoting economic recovery include making face coverings mandatory in crowded indoor spaces, improving ventilation in schools and workplaces, continuing to require social distancing, and discouraging large indoor gatherings.
The face off within the scientific community comes as The Prime Minister laid out a new set of restrictions to come in force from Thursday, which once again requires people to work from home where possible and for hospitality businesses to bring down their shutters hours earlier in the evening.
Plans for a further easing up for sporting and exhibition venues, scheduled for next month, have also been halted as part of the tougher measures to be enforced via fines between £100 and £10,000 pounds. The Prime Minister has told Parliament that the country should expect the restrictions to remain in place for around six months.
"The unstated objective currently appears to be one of suppression of the virus, until such a time that a vaccine can be deployed. This objective is increasingly unfeasible," warns Prof. Gupta's group in their letter. On the other hand, the establishment group backed by Prof. Sridhar, notes: "Despite claims to the contrary from some quarters, there are no examples of a segmentation-and-shielding policy having worked in any country."
Yesterday, Professor Peter Openshaw, a member of SAGE, added fuel to the fire, by saying that within the scientific community, those who believe in "herd immunity" are in a minority, and likened their position to the Anti-vaxxers ie those who do not believe in vaccines. Speaking to Emma Barnett on 5 Live, he said it is an "extreme view to say we should just let this virus go and get back to normal social activity."
Openshaw's view is outrageous. The efficacy of vaccines is NOT debateable. It is scientific fact, and the views of the Anti-vaxxers movement are dangerous and untrue. The strategies of "suppressing coronavirus" Versus "establishing herd immunity whilst shielding the elderly and vulnerable" is clearly debatable, and indeed should be subject to a public television debate, or even a referendum ?