Schools have been in the headlines for the last fortnight or so, particularly in respect of the exams fiasco (down to a "mutant algorithm" according to the Prime Minister yesterday), and more recently, the wearing of face masks in schools as pupils return this autumn.
Again, this issue exemplifies the differences in policy decision-making between the four Nations of the UK which I have criticised many times since the start of the pandemic. Children and their teachers are obviously the same throughout the UK, and it is ridiculous not to have a national policy on the wearing of face-masks in schools, or in all settings eg communal areas, shops, public transport etc..
The UK government had been under pressure to review its advice on masks in schools after the World Health Organization (WHO) updated its guidance at the weekend to say that face coverings were useful to curb the spread of Covid-19 where physical distancing between adults and pupils aged 12 and over was impossible, or in areas of high transmission. Of course, the UK government is only responsible for policy in England on this issue.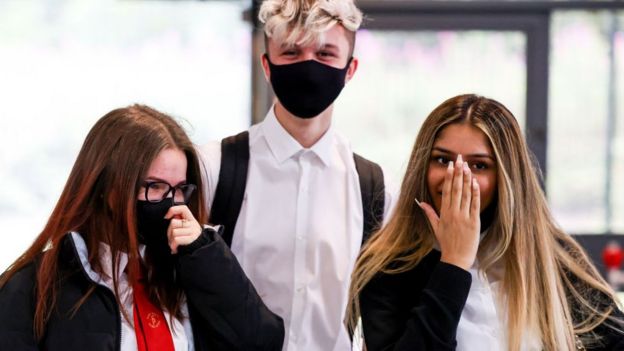 True to form, Boris Johnson made an 11th-hour U-turn days before classrooms reopen in England. In lockdown areas such as Greater Manchester, which have greater restrictions to stop the spread of the virus, wearing face coverings will become mandatory in school corridors where social distancing is more difficult.In areas of England not subject to tighter restrictions, headteachers will have discretion over whether to require face masks, but the government will no longer advise against their use, a senior government source said. click full article
Scotland had previously confirmed that secondary schools would be given "obligatory" guidance on pupils wearing face coverings. All secondary school pupils over the age of 12 should wear face coverings in corridors and communal areas from Monday. On dedicated school transport, all children aged five and over should cover their faces, bringing it into line with guidance for public transport. These rules will apply from 31 August, but are not mandatory, and that nobody should be sent home for not wearing a mask.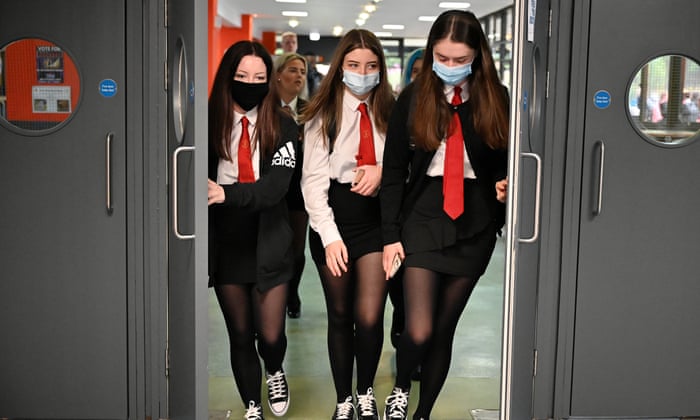 In Northern Ireland, post-primary pupils will be required to wear face coverings in school corridors, other communal areas and school buses from 31 August when they return full time.
Wales has consistently been been against the wearing of face masks in shops, and was a fortnight behind england in the wearing of face coverings on public transport. Yesterday, the Welsh government ducked the issue and it will be up to schools and councils to decide if face coverings are used in Welsh schools. Masks are now recommended for children aged 11 and up in communal areas indoors where social distancing is difficult, and on school buses, but not compulsory. Opposition parties and some education unions accused ministers of passing the responsibility to schools.
That was denied by Health Minister Vaughan Gething, who said a "one-size-fits-all approach" would not work in Wales. Risk assessments will need to be done to decide if schools or colleges need to ask pupils to wear face coverings.
This last comment is of course arrant nonsense. Why the devolved government of a small nation with a population of three million thinks they are different from the rest of the UK in beyond my comprehension.
Of course, some countries such as Sweden and the Netherlands have advised against the wearing face masks to ward off Covid-19, as they may lead people to assume they are safe from the virus when there is still a risk of transmission.