I have posted these graphs from In-Proportion before, and here are the latest up-to-date graphs comparing current mortality rates with those of 20 years ago, showing levels of mortality in 2019/2020 very similar and nearly 20,000 lower to those suffered in 1999/2000.
Despite this, the UK Government has taken drastic actions to deal with Covid-19, but are these actions and fears in proportion to the reality? Lockdown was not justified then and as millions of jobs are lost from the economy due to the lockdown, we must ask whether it is now?
The second graph shows the mortality rates for under 45 year olds in the UK for 2019/20 , again showing a "normal" mortality rate compared with the five year average, with the National lockdown, school closures and subsequent local lockdowns having no effect on deaths rates for children and younger to lower middle aged adults.
It is therefore essential for schools to reopen in September and for the general economy to reopen without the increasing numbers of local lockdowns being imposed where case numbers rise slightly, as is the current case eg Oldham.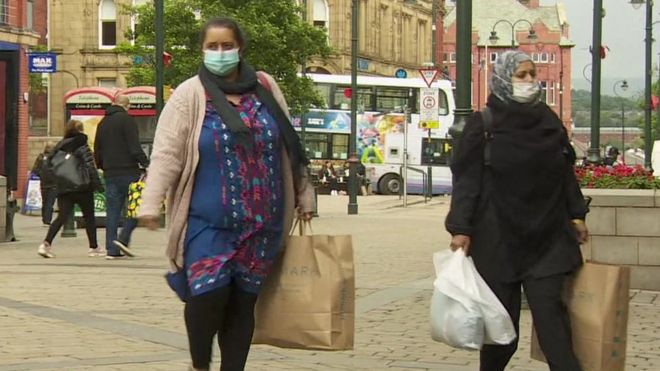 Oldham and parts of Blackburn and Pendle will face extra restrictions to stem the spread of Covid-19. From midnight on Saturday, residents in these areas will not be allowed to socialise with anyone from outside their household. Workplaces, childcare facilities and businesses, including restaurants and pubs, will remain open. full article
In Europe, Spain saw one of the most draconian Covid-19 lockdowns in Europe, but two months after it was lifted, the virus is spreading faster than in any neighbouring nation. It now has Europe's fastest-rising caseload, with 142 positive cases per 100,000 inhabitants over the past two weeks. By the time the state of emergency ended on 21 June, Spain was registering 100 to 150 cases per day. That number has risen to 3,000 – 4,000 per day.
Most of the transmission is now between young people, and around three-quarters of positives are in patients who show no symptoms. Spain's government admits the numbers are "not what we want to see", but points to key differences compared to the spring. Only around 3% of current cases require hospital treatment, less than 0.5% need intensive care and the current death rate is as low as 0.3%. "Mortality is very low, as is the hospitalisation rate. Something has changed big time, although the rise is still worrying," says Ildefonso Hernández, a professor in public health from Miguel Hernández University in Alicante. full article