Continuing the lockdown theme, Auckland New Zealand reimposed level 3 lockdown measures today after the Country had been covid-19 free for just over two months. This is in response to the outbreak of community transmission in the City, with four confirmed cases from one family, and four probable cases.
New Zealand had previously joined a small and exclusive group of nations that claimed to have overcome the threat of COVID-19. Prime Minister Jacinda Ardern had announced that social distancing protcols, along with any other restrictions on people and businesses would come to an end at midnight June 8th. New Zealand's handling of the coronavirus pandemic received international recognition, specifically for its 'go early, go hard' strategy.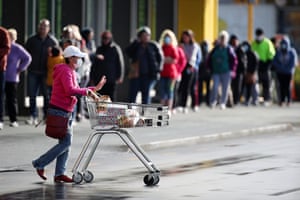 In the hours immediately before Auckland went into level 3 lockdown at noon on Wednesday, the city's roads were full, queues snaked outside supermarkets and toilet paper flew off the shelves once more. People hurried to stock up and carry out last-minute tasks in the knowledge that the luck for one of the very few countries that appeared to have contained coronavirus had changed.
This new situation in Auckland highlights the difficulty of trying to completely eradicate coronavirus by lockdown and social distancing measures. If a small island nation cannot achieve this, then the vast majority of larger nations have no chance in eradication of the virus, and management strategies will have to be developed to live with coronavirus which has become endemic.
We may have to return to the Swedish model, and further the study the work of professor Sunetra Gupta from Oxford University who claims that both Sweden and the UK are approaching herd immunity.
Prof. Sunetra Gupta: 'We May Already Have Herd Immunity'
JULY 24, 2020 BY NEWS WIRE2 COMMENTS
A recent study from Oxford University indicates that some parts of the UK may have already reached what is known as 'herd immunity' from COVID, revealing "innate resistance or cross-protection from exposure to seasonal coronaviruses." Surprisingly, instead of celebrating these findings, politicians and mainstream media are actively ignoring them, and instead are claiming the threat of COVID is on the rise, and demanding the public accept mandatory masks, vaccines and rolling lockdowns. click full article