Today, a new rapid-diagnosis test that can detect coronavirus and flu will within 90 minutes will be rolled out in care homes and laboratories from next week. The "on-the-spot" swab and DNA tests will help distinguish between Covid-19 and other seasonal illnesses, which is an added bonus.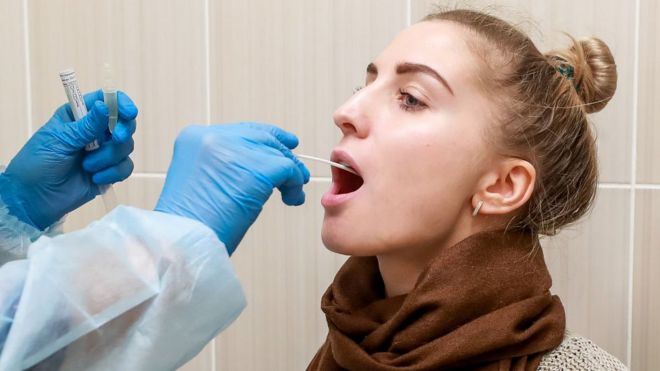 Almost half a million of the new rapid swab tests, called LamPORE, will be available from next week in adult care settings and laboratories, with millions more due to be rolled out later in the year.
Currently, three quarters of test results are returned within 24 hours and a quarter can take up to two days. Clearly, this rapid testing kit could be a game changer in breaking chains of transmission. Click for full article.
In America, the testing regime is not fit for purpose, and with over 60 million tests conducted to date, has little to show for it other than the pandemic continuing to rage out of control. Although some Covid-19 results can be delivered within hours, 10-day wait times are now not unusual for results from the most common test — the kind that uses polymerase chain reaction (PCR) to look for an active infection — when patients who are not isolating can go on to infect others. While testing failures have been a blight on the US response since the beginning of the pandemic, the latest delays reveal a strikingly uneven system that hasn't been able to scale up to meet spiking demand, stymying efforts to stop the virus's spread.
Indeed, a paper, published July 16 in The Lancet Global Health, argues that if test results were provided the same day — and comprehensive contact tracing happened right away — about 80 percent of new transmissions could be prevented, effectively stopping the spread of the virus. But if test results take a week — and even if contact tracing is quick and effective — we're only stopping about 5 percent of onward transmissions, the researchers concluded. They didn't even bother to extrapolate to longer wait times than a week, which plenty of people in the US are experiencing.
Although the UK track and trace system has been widely criticised after getting off to a shaky start, it is certainly far superior to the US model, which has no chance of success with the level of test result delays.
Many experts say what we really need right now is not more, broader testing but instead to be stricter — or, as they say, "smarter" — about who gets tested in the first place.
The Centers for Disease Control and Prevention currently provides rough guidance on the use of testing. But Osterholm and his colleagues put together a much more robust hierarchy for "smart testing" when resources are limited. They lay out the order of who should get tests when resources are lacking:
Hospitalized patients with symptoms
Symptomatic health care workers, first responders, essential workers, and those who work in high-risk facilities (like long-term care institutions or homeless shelters)
Symptomatic people in the community
People without symptoms who live in high-risk facilities
Until the US gets rapid testing under control, with results back within hours, a country-wide track and trace system with compliance of self isolation for 10 days for those in contact with infected individuals, it is hard to see how the country will manage to re-open the economy and get on top of the pandemic. The UK manufacturers of LamPORE can expect a large order from the US soon. Buy shares.