Continuing from last night's post, further lockdown easing in England has been delayed by at least two weeks following surges in new cases of coronavirus. Figures published by the Office for National Statistics (ONS) on Friday suggest infection rates in England are rising, with around 4,200 new infections a day – compared with 3,200 a week ago.
The ONS's estimates of daily cases – based on a sample of households completing swab tests – are higher than the figures for lab-confirmed cases reported by the Department of Health and Social Care (DHSC) because they include people without symptoms who would not otherwise have applied for a test.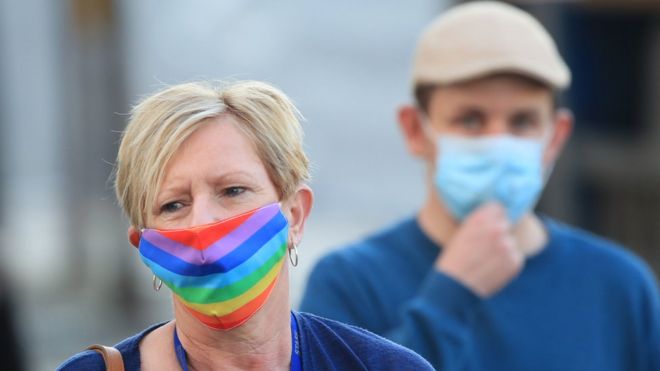 As a consequence, casinos and bowling alleys will remain shut, as Boris Johnson announced today at a special press conference, saying that it was time to "squeeze the brake pedal". Face coverings will be mandatory in more indoor settings, such as cinemas. England's chief medical officer, Prof Chris Whitty, warned the UK may have hit its limits on easing restrictions. Appearing alongside the prime minister at a special Downing Street briefing, Prof Whitty said the "idea that we can open up everything and keep the virus under control" is wrong.
Meanwhile in wales, lockdown easing in Wales is going the other way.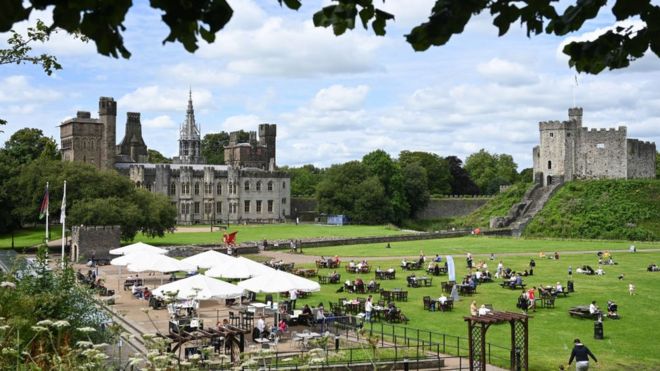 First Minister Mark Drakeford today announced the following easing of lockdown measures:
Pubs, restaurants and cafes can reopen indoors in Wales from Monday, providing there is social distancing.
Up to 30 people can meet outdoors from Monday, regardless of how many households they are from.
Children under 11 will not have to social distance from Monday.
Licensed wedding venues will be able to reopen from Monday, but receptions will need to be outdoors.
Indoor bowling alleys, auction houses and bingo halls can reopen from Monday.
Swimming pools, gyms and leisure centres can reopen from Monday 10 August
Indoor play areas, including soft play centres, can also reopen from 10 August.
More people may be able to meet indoors in Wales from Saturday 15 August if Covid-19 infection rates in Wales continue to fall.
First Minister Mark Drakeford said people from outside Wales are "welcome" into the country during the summer holidays.
He also said the pandemic would not be over by Christmas.
He admitted that new lockdown restrictions in the north west of England had given him "pause for thought". He said the changes bring those areas line with Wales, and declined to call for people not to travel from the places affected. Plaid Cymru has called for measures to limit non-essential travel from the affected areas.
Mr Drakeford suggested Wales was near the limit of what could reopen and the "headroom" that was left could be needed to allow schools to reopen in September. "I think we are now pretty close to the point where most aspects of the Welsh economy have been able to reopen," he said. "There are a small number of things still on a list that can't reopen – nightclubs, casinos and so on. "I think it'd be a while before they are able to reopen."
On a daytrip to Bristol today, there was heavy holiday traffic between England and Wales over the Prince of Wales bridge, with more people flooding into Wales. Unfortunately, this is likely to import infections to wales over the Summer holidays, and it is essential that there are no additional spikes in wales before the schools return in September.