Today July 30th, the Office for National Statistics published a detailed report comparing excess mortality rates across Europe during the height of the pandemic. The UK does not come out of it well at both national, regional and city levels.
England saw the second-highest national peak of excess mortality during 2020 in the week ending 17 April, compared with 21 European countries; only Spain saw a higher peak (during week ending 27 March).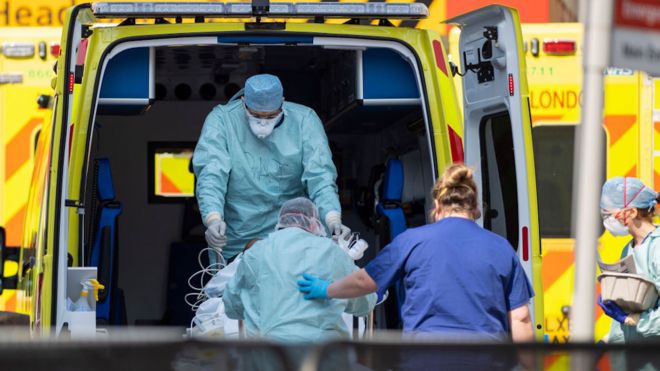 While England did not have the highest peak mortality, it did have the longest continuous period of excess mortality of any country compared, resulting in England having the highest levels of excess mortality in Europe for the period as a whole (week ending 21 February to week ending 12 June 2020).
Comparisons of all-cause mortality between European countries and regions, January to June 2020, uses weekly all-cause death registration data published by Eurostat. Excess mortality is measured using relative age-standardised mortality rates.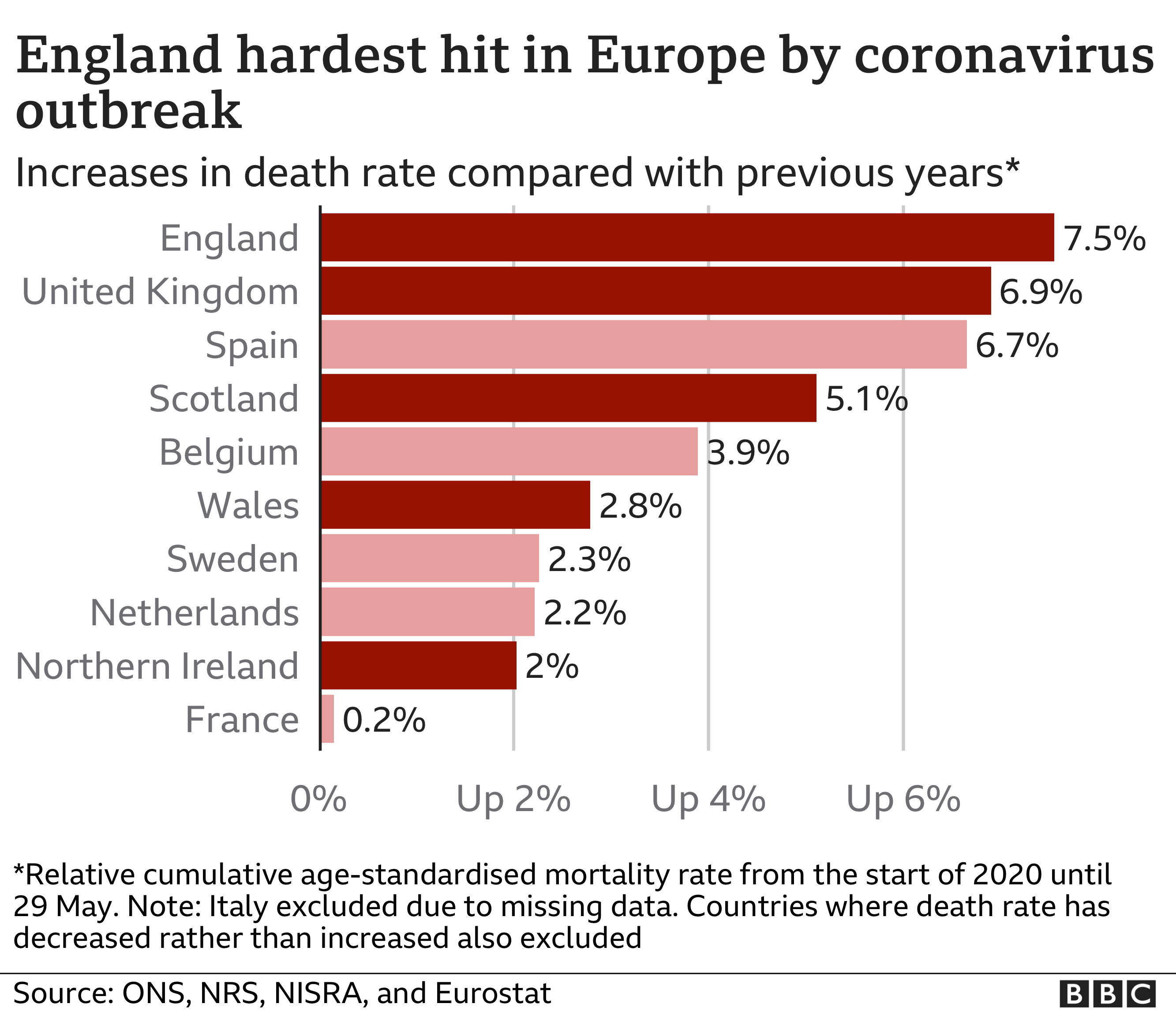 In the UK, every region experienced excess mortality during the highest weeks of excess mortality in April 2020, while other Western European countries experienced more localised excess mortality during their peak weeks of excess mortality.
At the regional level, the highest rates of excess mortality were in regions in Central Spain and Northern Italy. Bergamo (Northern Italy) had the highest peak excess mortality (positive 847.7%, week ending 20 March), compared with the highest in the UK, Brent (positive 357.5%, week ending 17 April).
Looking at major cities, the highest peak excess mortality was in Madrid (positive 432.7%, week ending 27 March) while in the UK, Birmingham had the highest peak excess mortality of any major British city (positive 249.7%, week ending 17 April).
Seven of the 15 cities with the biggest rise in death rates are in the UK.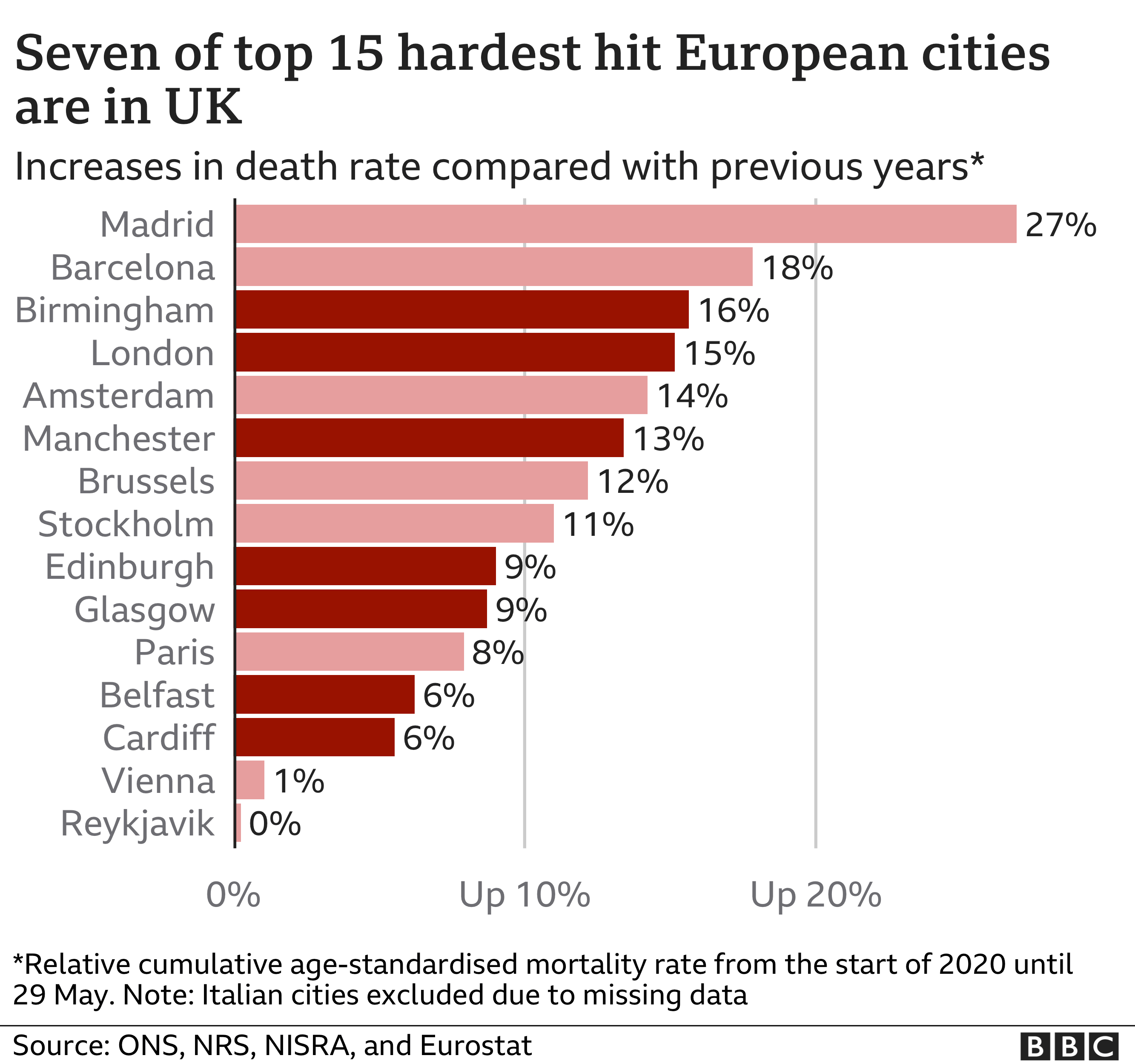 Edward Morgan of the ONS said the wide spread of the virus combined with the relatively slow downward "tail" of the pandemic in the UK were key reasons that England saw 'the highest overall relative excess mortality out of all the European countries compared".