Chart 1 showing top ten causes of death
Chart 2 showing total deaths from all causes during pandemic
The chart below shows the total number of registered deaths from all causes, with coronavirus deaths highlighted in red, with the position in June returning very close to the five year average, compared with almost 40% at the height of the pandemic.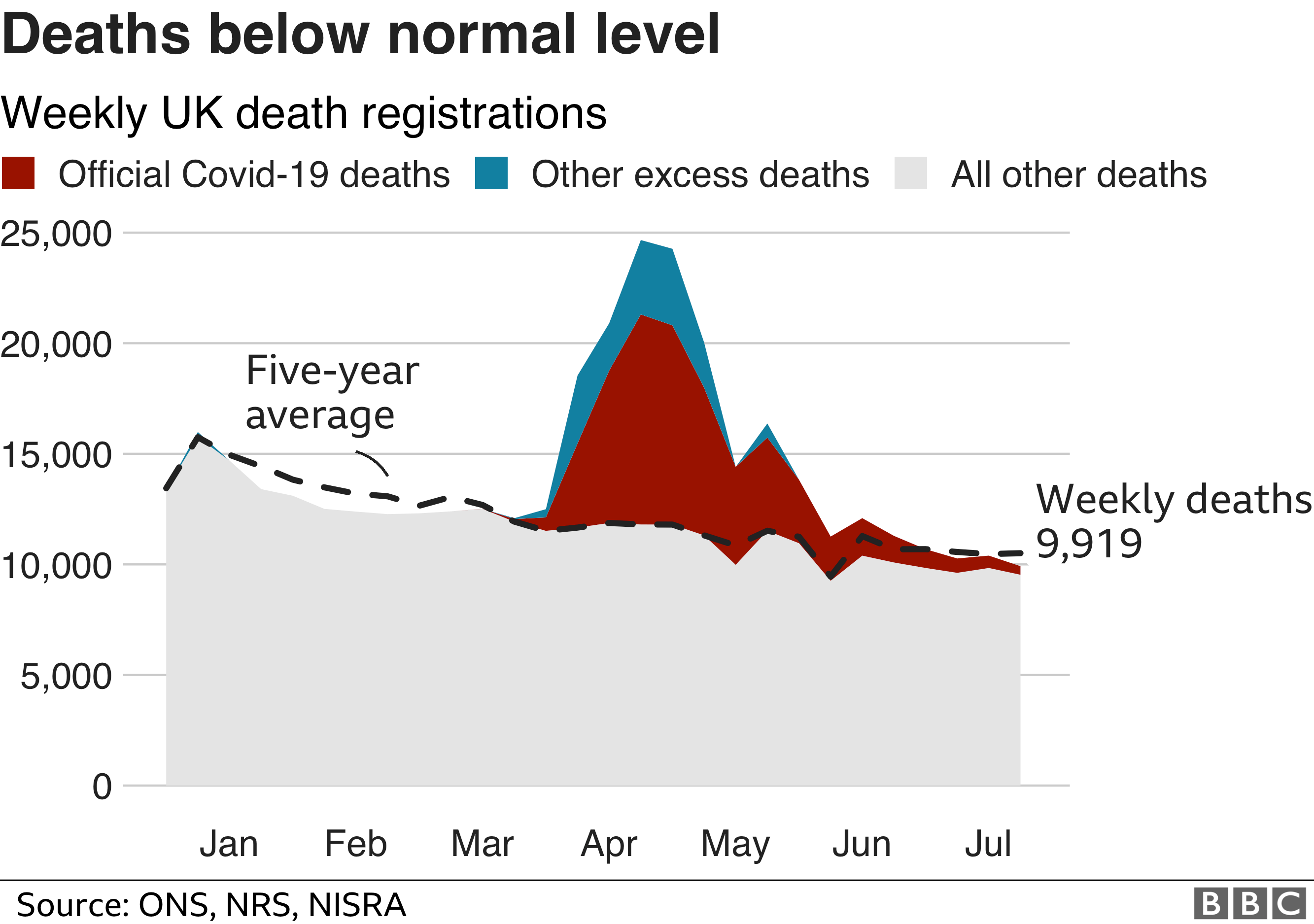 Discussion
So, what are we to make of these two charts ? It is highly unlikely that deaths from heart disease, influenza, dementia and alzheimers, neoplasms (mostly cancers) and all the other top ten leading causes of death should all reduce at the same time. On the other hand, chart 2 shows overall death rates including covid-19 related deaths approaching normal levels in June.
New research shows that almost two-thirds of Britons with common life-threatening conditions have been denied care by the NHS because hospitals have focused on fighting Covid-19. Seven out of 10 people with diabetes, 65% of those with high blood pressure and 64% of people suffering from breathing problems have had care cancelled by the NHS across the UK during the pandemic. Even a majority of cancer patients have been left unable to access treatment in the normal way, the biggest study of the suspension of NHS care during the pandemic has found.
A number of experts have warned that to restrict access to the healthcare system could have deadly consequences for significant numbers. This would be true whether healthcare services were deliberately cancelled or postponed in response to covid or whether fear scared people away from healthcare services.
Conclusion
The main conclusion to these charts and data is obvious – that a significant number of deaths that would normally be attributed to their primary cause eg "dementia & alzheimer disease" have been attributed to covid-19.
However, in the next chart, the differences from average for the non-covid-19 leading causes of deaths are totalled and compared to the deaths attributed to covid-19. Overall, the variation of reduced deaths in all categories sums to more than double the amount for Covid-19.
Clearly, these numbers don't stack up, and whilst they may support the narrative of the early pandemic, they do not fully explain the data for the month of June.
For full articles click and click here .