The wearing of face masks remains unclear, and is another policy area which differs across the four Nations of the UK. Masks and homemade cloth face coverings can help reduce the spread of coronavirus from people who are contagious but have no symptoms, or are yet to develop symptoms.
Professor Trisha Greenhalgh from Oxford University, who argued for widespread use of face coverings in April, told BBC Radio 4's Today programme the vast majority of scientists "are now persuaded by the evidence" that wearing masks in crowded places can reduce transmission. Asked about the suggestion that face masks benefit others more than the wearer, she said: "Broadly speaking, if I'm wearing a face covering it might protect you 80% and it might protect me 20% or 30%.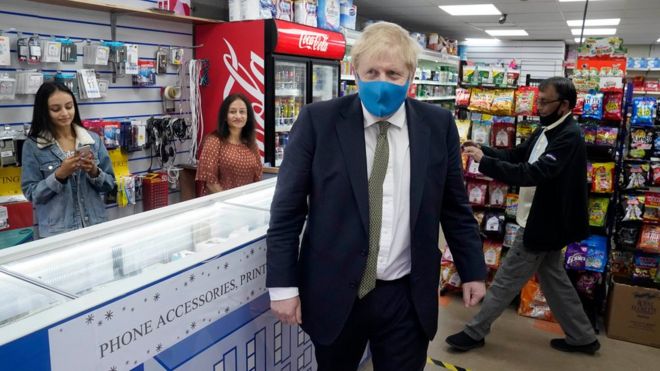 In recent days, both Johnson and Trump have appeared in public wearing facemasks, as has Jair Bolsonaro the Brazilian President, but only after he contracted covid-19. However, messages are still unclear, particularly in England, where Boris Johnson has said we must be "stricter" in insisting people wear face coverings in confined spaces where they are meeting people they don't normally meet. Face masks are already mandatory on public transport.
In Wales, Mark Drakeford said he did not think the evidence on the benefits of wearing facemasks was "decisive" yet but said the "balance is shifting". The view of the chief medical officer for Wales was still that face coverings should be recommended but not required. Face masks are NOT compulsory on public transport in Wales.
In Scotland, the wearing of face covering in shops became compulsory from July 10th, and was already mandatory on public transport. In Northern Ireland, the wearing of masks is only required on public transport as of July 10th. Click for full article
Update : At today's Press briefing, Wales First Minister Mark Drakeford aka the Tortoise, announced "For the sake of simplicity and consistency, as well as being part of our plan to help reduce the risk of transmission while on public transport where it is not always possible to maintain a two metre physical distance, it will become mandatory for people to wear a three-layer face covering while travelling – this includes taxis."…..from July 27th. ….so its ok not to wear them for the next fortnight. This does not apply to shops in Wales.
Boris Johnson made further noises about wearing face coverings in shops, so it will be announced either tomorrow or in a few days.