Just as the quarantine arrangements, which came into effect on 8th June, were widely mocked as ridiculous and an unenforceable initiative introduced about 10 weeks too late, their scrapping a month later has been equally shambolic. It is another example of divergence between the four nations of the UK on a key policy that should be a single UK wide policy.
After a week of negotiations between the four nations of the UK, the Department of Transport confirmed yesterday that people arriving in England from more than 50 countries including France, Spain, Germany and Italy will no longer need to quarantine from 10 July.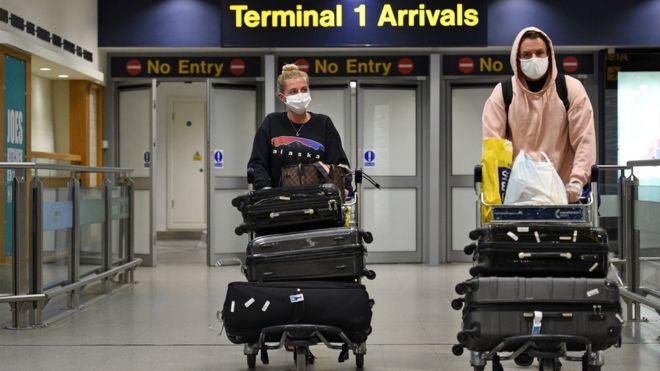 The new exemptions mean people arriving from selected countries will be able to enter England without needing to self-isolate, unless they have been in or travelled through non-exempt countries in the preceding 14 days.
Transport Secretary Grant Shapps said finalising the list of countries had been delayed – after scrapping the quarantine was announced last week – in the hope that the four UK nations could reach a joint decision. He said there was "still an opportunity" for Scotland, Wales and Northern Ireland to co-ordinate and therefore make the changes more simple.
Unsurprisingly, the first ministers of Scotland and Wales have launched scathing attacks on the UK government's "shambolic" handling of lifting quarantines on foreign travel.
In parallel press conferences in Edinburgh and Cardiff, Nicola Sturgeon , the Scottish first minister, and Mark Drakeford, her Welsh counterpart, said they had struggled to get coherent information from UK ministers about which countries would be exempt and why. They said the UK government seemed to regard consultation with the devolved administrations in Edinburgh, Cardiff and Belfast as an afterthought, even though all three had clear legal duties to make sure their decisions were lawful and proportionate.
"Dealing with the UK government over the last few days has been an utterly shambolic experience," Drakeford said. "Day after day we have attempted to get a sensible answer from the UK government of how they intend to make these changes, which countries they intend to extend the new arrangements to and I just have to say it's been an impossible experience to follow."
Those changes only affect airports and ports in England, but major airports in Scotland, Wales and Northern Ireland have extensive air links to overseas destinations which are due to slowly resume services.
The FCO updated its global advisory against 'all but essential' travel, exempting destinations that no longer pose an unacceptably high risk for British travellers. Click here for list.