Following the data-delayed lockdown debacle in Leicester, it transpires crucial data that could help prevent fresh local waves of coronavirus is being withheld from some of the places most in danger of further lockdowns ie local Councils.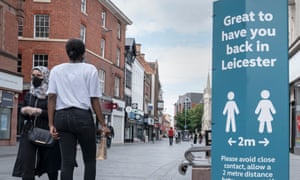 Apparently, the results of the hundreds of thousands of tests taken at drive in centres and postal kits, have NOT been made available to local Councils or Public Health England. These pillar 2 tests have been trumpeted by Matt Hancock for months at the daily Government press briefings as essential to getting covid-19 under control, in conjunction with the Test and Trace programme.
It has been reported that the contract Hancock signed with Deloites said that the test results data did NOT have to be shared with local Councils or Public Health England. There have also been reported issues of the data protection act preventing data sharing.
"The great @stellacreasy uncovered the failure. Not only do Deloitte not have to share info with local authorities. They don't even have to share it with Public Health EnglandDeloitte: Coronavirus: 11 Jun 2020: Hansard Written Answers – TheyWorkForYouTheyWorkForYou is a website which makes it easy to keep track of your local MP's activities.theyworkforyou.com"
I had naively assumed that a massive database would have been constructed for the results of the testing programme with each individuals basic ID information including postcode, enabling covid-19 clusters to be easily identified , and shared with local authorities and Public Health England. If the Test and Trace system was working properly, contact tracers should have got on top of any cluster such as that in Leicester.
I had also assumed that the key R number would have been calculated at a City level such as Leicester, but that has never been mentioned, and I have not heard any journalist asking that question of any politician.
A new criteria seems to have crept in to make these big decisions – Pillar 1 (Hospital testing) + Pillar 2 (community testing) positive cases of coronavirus per 100,000 population. Here is the data :
Town or City Pillar 1 + Pillar 2 cases/100,000 pop % age pop
Leicester 140.2 0.14%
Bradford 69.2 0.07%
Barnsley 54.7 0.05%
Rochdale 53.6 0.05%
Guardian graphic | Source: Public Health England. Pillar 1 data for week ending 21 June is from Public Health England's live dashboard, while combined Pillar 1 and 2 data is from a seperate Public Health England dataset
Click here for rest of the table and full article.
Since then, detailed data had been produced. Click here for full data.
The government says some areas got this from 11 June. It was made available to Leicester eight days later, on 19 June, the day after Matt Hancock's "outbreak" announcement.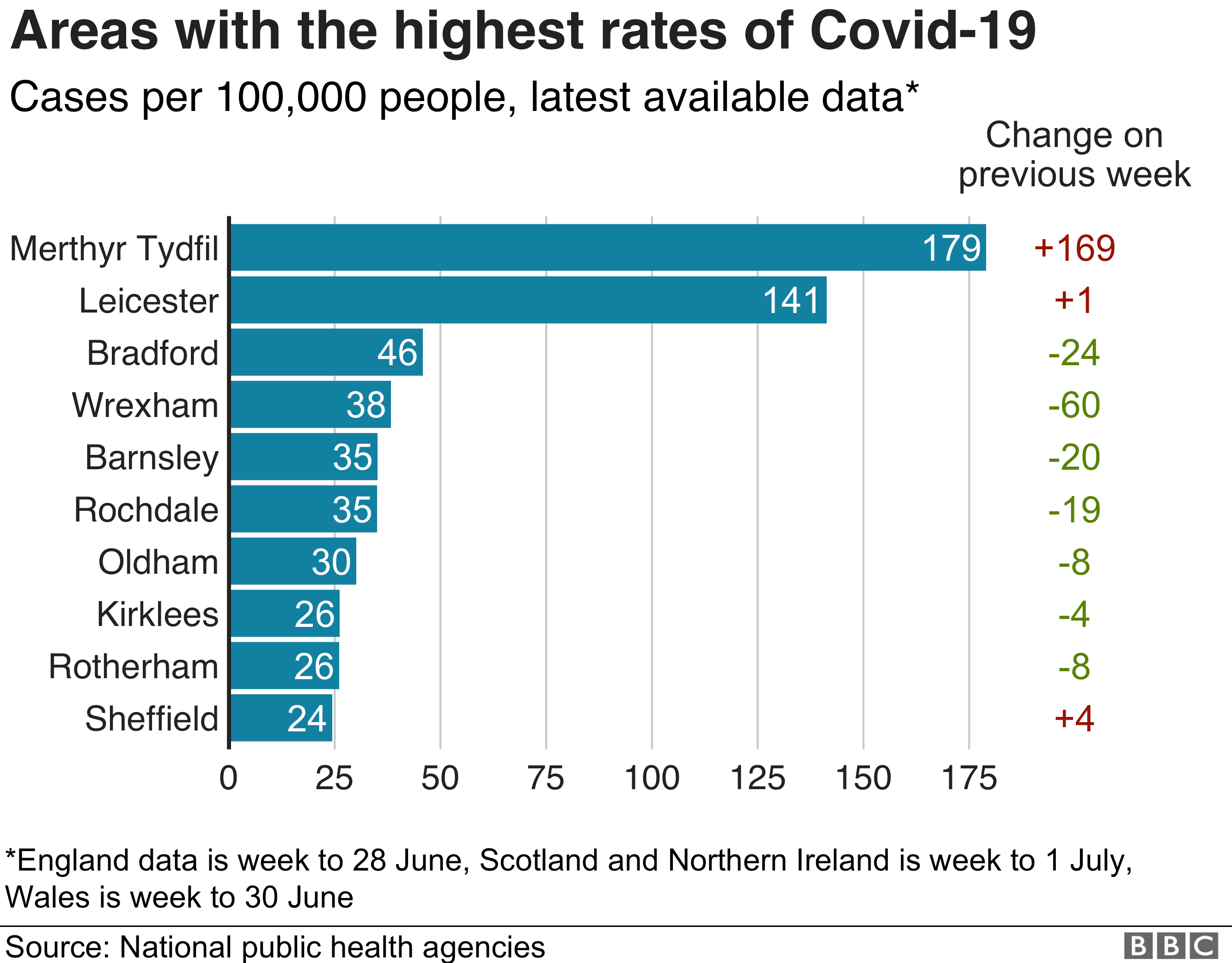 Latest R number and growth rate
The R number for the Midlands is 0.7 – 0.9 and the R number for the North West is 0.7 – 1.0
PHE last updated on Thursday 25 June 2020.
Looking at this data, the Leicester lockdown decision is more ridiculous than I thought. The numbers of the population infected are tiny and the Regional R number appear to be similar for the rest of the Country.