About a months ago, I posted about the circumstances building in America to create a perfect storm. – click here. for full post.
Dr Anthony Fauci, Director of the National Institute of Allergies and Infectious Diseases told the US Senate that he "would not be surprised" if new virus cases in the country reach 100,000 per day. "Clearly we are not in control right now," he testified, warning that not enough Americans are wearing masks or social distancing. During the hearing, he said about half of all new cases come from four states – Florida, Arizona, Texas and California.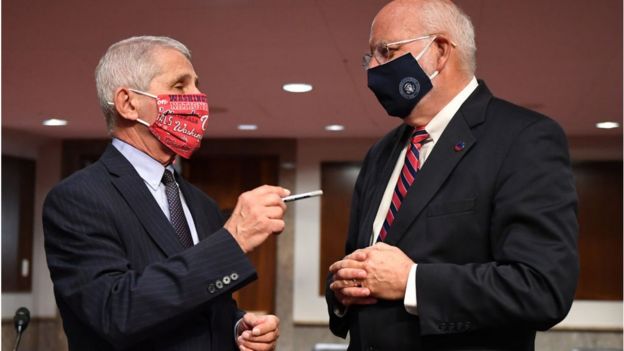 Also on Tuesday, New York Governor Andrew Cuomo expanded the number of Americans who are required to self-quarantine for 14 days if they visit the state. There are now 16 states on the list. The newly added states are California, Georgia, Iowa, Idaho, Louisiana, Mississippi, Nevada and Tennessee. They join Alabama, Arkansas, Arizona, Florida, North Carolina, South Carolina, Texas and Utah.
All together, the order affects 48% all US residents, according to a USA Today analysis.
Dr Fauci warned on Monday that the US is "unlikely" to develop herd immunity to the coronavirus even once a vaccine is available, which he earlier predicted could be available by early 2021. He said this was due to the combination of a vaccine that is potentially only partially effective, and the large number of Americans who might refuse to get it. "There is a general anti-science, anti-authority, anti-vaccine feeling among some people in this country – an alarmingly large percentage of people, relatively speaking," he said, calling for more education to promote confidence in vaccines.
Dr Fauci added that he would gladly "settle" for a vaccine that is only 70% to 75% effective at first.