Pupils have started to return to school in Wales for the first time since March. It is hoped all pupils will be able to "check in, catch up and prepare" over the next three to four weeks ahead of the September term. With strict social distancing measures and limited numbers in at a time, classrooms will look very different. Click full BBC article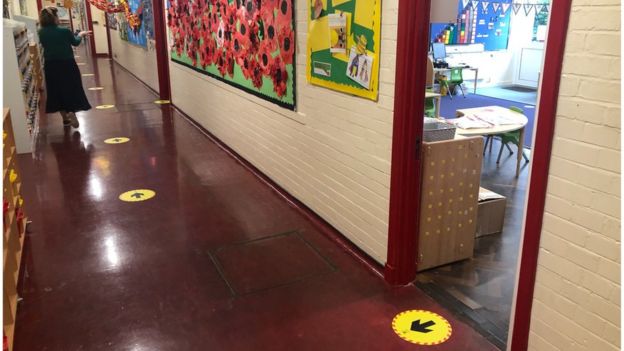 Wales is the only part of the UK to reopen primary and secondary schools to all pupils from today. Secondary schools in England have been allowed to reopen for Years 10 and 12 since 15 June, but pupils in all year groups will not go back to school full-time in September. In Scotland the aim is to reopen full-time with no physical distancing in August if coronavirus continues to be suppressed. In Northern Ireland, the plan is for schools to fully reopen on 24 August with social distancing reduced from 2m to 1m.
A month ago on 29th May and earlier on 11th May, I campaigned that the UK Government should take back control the management of the pandemic (Click here) : "I believe emergency legislation should be passed by the UK Government that pandemic management should be one of their "reserved powers". If this is not possible, perhaps the definition above enables the UK Government to simply take back authority from the devolved governments to fully "take back control" of pandemic management., rather than the current divergence of policy by the four nations of the UK"
Imagine my surprise when I discovered that The Coronavirus Act 2020 conferred new powers on devolved ministers in areas such as health, education and justice. For example, the Act empowers devolved ministers to provide an indemnity to medical staff for criminal negligence cases, and to temporarily close educational establishments. The Act was passed with the consent of the devolved legislatures in accordance with the Sewel Convention. As a result, an effective response to the public health emergency required all four governments both to take action within their own areas of responsibility and to coordinate their actions.
Ministers in the three devolved nations moved swiftly to use these powers, making new regulations to tackle the pandemic. The regulations in the three devolved nations were initially similar in scope to those made for England by UK ministers, although they have since been amended in different ways. They placed restrictions on movement and public gatherings and require a wide range of premises and businesses to close.
Ministers from the devolved administrations also attended meetings of five new ministerial implementation groups (MIGs) that were established to look at specific aspects of the coronavirus response. However, both COBR and the MIGs had ceased to operate by early June. In place of these, the UK Government established two new cabinet committees to coordinate its response to coronavirus, but without making clear what role – if any ­– the devolved administrations would play in these.[1] Each of the devolved administrations has a chief medical officer (CMO) and a chief scientific adviser. They work with Chris Whitty, the CMO to the UK government, and Patrick Vallance, the government chief scientific adviser, to provide coordinated advice to government departments in all four nations. Click here for full details from Institute of Government
In my opinion, the emergency legislation in the form of the Coronavirus Act 1920 would have been the perfect opportunity to centralise Government control and management of the pandemic. However, as the UK Government have such a mess of pandemic management that perhaps it was right to devolve, but the devolved nations have also had their moments, and have not performed well. see below :
A separate analysis of European nations, by Oxford University economists, has England just above Spain in terms of the proportion of deaths over and above what would be normal.