About 10-12 days ago at one of the Government's daily press briefings on 18th June, Matt Hancock mentioned that there was a local outbreak in Leicester. Since then, the position has been unclear, with the Mayor only getting corraborative data last Thursday. From then, there have been rumours that the City would be the first to lockdown after continuing numbers of new coronavirus cases.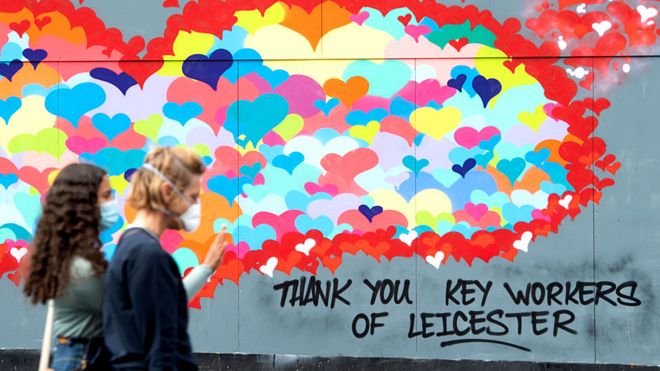 Ministers have talked about the concept of local lockdowns for many weeks as a means of containing transmission of coronavirus, saying that restrictions, or lockdowns, could be used in specific areas in England to counter localised coronavirus "flare-ups". The Joint Biosecurity Centre, which advises the government on the Covid alert level, will work with local health teams "to address local spikes in infections".
It is unclear whether a lockdown would focus only on the exact location of an outbreak – like a school, care home or workplace – or would cover a whole area, such as a postcode, a town, or even a city. Councils already have the power to lock down a premises if it presents a health hazard. But the government has also hinted at the idea of locking down a whole city. However, local politicians say they do not have the powers to enforce such measures, and have asked for more clarity. A Department of Health spokeswoman said further guidance on containing such outbreaks would be published "shortly".
So after weeks dithering, and Matt Hancock meeting with local leaders in Leicester this afternoon to discuss the plans, He addressed the Commons in an unusual evening statement, which had been delayed by several hours."Given the growing outbreak in Leicester, we cannot recommend that the easing of the national lockdown, set to take place on the fourth of July, happens in Leicester.
"Having taken clinical advice on the actions necessary, and having discussed them with the local team in Leicester and Leicestershire, we've made some difficult – but important – decisions. "We've decided that from tomorrow [Tuesday], non-essential retail will have to close and, as children have been particularly impacted by this outbreak, schools will also need to close from Thursday, staying open for vulnerable children and children of critical workers as they did throughout.
Unsurprisingly, the city's Labour mayor had earlier hit out at the government's handling of the outbreak in the city, describing Downing Street's plans as hastily "cobbled together". It means the city of more than 300,000 people will have to wait while the rest of England enjoys new freedoms from 4 July on what has been labelled "Super Saturday".Non-essential retail shops will close from Tuesday and schools will be forced to shut to most children from Thursday in a series of moves to quell coronavirus infections, which swelled by nearly 900 in a fortnight.
The BBC have since produced a detailed timeline on what happened in Leicester and when. Click here for details.
Obviously, there should have been a clear and unambiguous plan for these local lockdowns, as they have been touted by the Government for weeks. Not so !! Apparently, more legislation is required later this week to manage this "new" local lockdown. The Test and Trace system should have closed down this outbreak, but surprise, surprise, this also has failed apparently.
Interestingly, I have not seen any reports that Leicester Royal Infirmary has being overwhelmed. Their web site below has no emergency messages about the new local lockdown or a surge of cases.
I came across this today (July 4th) on the Inproportion2 web site which confirms what I thought about hospital cases and deaths in Leicester. Click here full article
Covid deaths and "Pillar One" positive tests are now very low in Leicester
Lab-confirmed Covid cases for Leicester were yesterday 0. the day before 1, Monday 6, on Sunday 1. These are low numbers and probably around 40% will have no symptoms, for those who do get it, the risk is similar to flu (which is of course significant for older people or those with comorbidities, and little to worry about for the rest).