Overseas holidays will be given the green light from early next month, with the government expected to suspend the 14-day quarantine period for a series of countries and also to set up so-called air bridge arrangements for overseas destinations. Foreign Office restrictions on non-essential travel abroad to some countries will be lifted.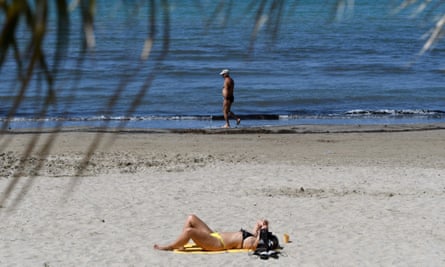 The list of approved countries is due to be announced around the middle of next week, with people allowed to start travelling from the following week, starting 6 July. Spain, France and Germany have been mentioned but Sweden and Portugal are out. The government hopes to reach agreements on mutual travel routes with the nations involved. The list of permitted destinations will remain fluid, with what is described as a "strict handbrake mechanism", meaning any sudden outbreak of coronavirus in certain countries – or even in particular parts of a country – could require travellers unexpectedly to isolate for two weeks when they return to the UK.
Since 8 June nearly all passengers have been required to go into self-isolation for 14 days at a declared address when they arrive in the UK. People who fail to comply can be fined £1,000 in England, and police are allowed to use "reasonable force" to make sure they follow the rules. The International Consolidated Airlines Group (IAG) branded the blanket quarantine measures "illogical" and budget airline Ryanair labelled them "idiotic rubbish".
There will be a traffic light system in place, and only if Britons are returning from Green (low risk) countries will they be exempt. Quarantine restrictions will still be required for medium (orange) and high risk (red) countries, which is the system that should have been in place right from the start, rather than the blanket quarantine restrictions. Click full article.
Americans not welcome in Europe
The European Union will reportedly block most Americans from travelling to the bloc even as those countries reopen to other travellers, a policy that reflects the United States's failure to fully control the coronavirus pandemic.
The European Union restricted non-essential travel to most of its member-states under rules in effect until at least June 30. But starting July 1, European countries are loosening some of those measures and allowing travel again from more than a dozen countries — including China (if Beijing allows EU travelers too) — that meet certain criteria, including their ability to contain the coronavirus.
Right now, the United States doesn't make the cut.
This is not altogether surprising. Europe was once the epicenter of the coronavirus crisis, with Italy, Spain, and France some of the hardest hit countries in the bloc. Aggressive lockdown measures drove down cases, and many European countries have slowly reopened. And while there have been spikes across the continent, overall, Europe's cases have declined.
The United States had long since overtaken Europe as the epicenter of the crisis. And, unlike its allies overseas, America is now seeing a massive surge in cases in some states. As of June 26, the United States has confirmed more than 2.4 million coronavirus cases and recorded more than 124,000 deaths, according to data from Johns Hopkins University. On Friday, the United States confirmed a record 40,000 new coronavirus cases nationwide. Click for full Vox article