Over the last few days, there are signs that compliance with social distancing is reducing, particularly with the hot weather. It started over a months ago with the numerous BLM demonstrations around the country following the murder of George Floyd in America. In the last few days, there have been illegal raves and street parties in Manchester and London which have led to standoffs with the police and many police injuries in street violence.
Flashpoints of mass gatherings have appeared across England
Formby – Thursday 25 June – Police stopped cars, confiscated alcohol and broke up large gatherings as people flocked to Formby, Crosby, and Ainsdale beaches
Daisy Nook country park, Failsworth – Saturday 13 June – a 20-year-old man died of a suspected overdose after collapsing while leaving the 'quarantine' rave
Carrington, Greater Manchester – Saturday 13 June – three people were stabbed and a woman allegedly raped as 2,000 people attended a rave at a remote site off Common Lane
Streatham Common – Thursday 25 June – unlicensed music event on Streatham Common. Police broke up a party taking place on parkland on Thursday evening. Large numbers of people were in attendance but dispersed without any violence reported
Notting Hill – Thursday 25 June – objects were thrown at police as violence broke out at a large gathering of people in Colville Gardens
Southend – Thursday 25 June – council leader Ian Gilbert warned of antisocial behaviour and littering as people flocked to the beach during the heatwave
Poole – Thursday 25 June – The car park for Sandbanks beach was closed after the local council declared a 'major incident'
Bournemouth beach – Thursday 25 June – the beach was inundated with tens of thousands of visitors as temperatures soared. The local authority declared a major incident
Brixton – Wednesday 24 June – police were called to a 'large unlicensed music event' in Overton Road. Police vehicles were attacked and officers chased during skirmishes with a large crowd. Four people were arrested and 22 police officers injured
Guardian graphic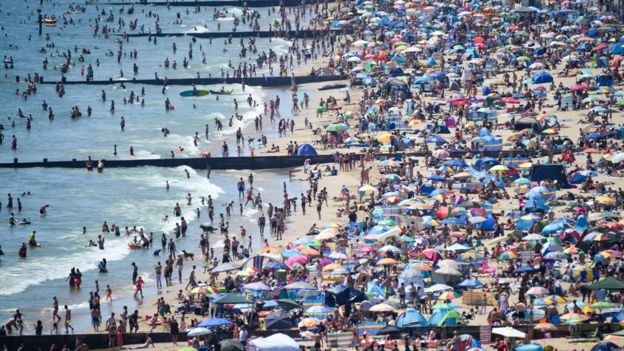 On Wednesday and Thursday, the hottest day of the year, everyone had the same idea – lets go to the beach". Up to half a million people visited Dorset trying to get to the beach in Bournemouth, with the beach and town gridlocked, and social distancing went out the window. A major incident was declared in Bournemouth as local authorities and the police lost control of the situation.
Council leader Vikki Slade said there have been problems in Bournemouth since lockdown first eased in May. The fact that pubs, bars and restaurants are still closed pushed people towards the town's beaches and pier, and lack of toilet facilities must have been a problem in this situation, with the sea becoming a giant toilet.
Council workers and volunteers worked on Thursday night and Friday morning to clear the beach of many tonnes of rubbish. It was not only wrappers, bottles and barbecues that were left, though there were plenty of them. Unlucky crews had to deal with human faeces left in a box on the beach and discarded underwear.
Peter Ryan, the founder of Dorset Devils, a litter-picking group who took part in the cleanup, said the beach was left in the worst state he had ever seen it. "The sights and smell were horrendous, like nothing I've ever come across before. There was the smell of weed, urine and excrement, and we found so many empty beer bottles. There were cans, wrappers, wet wipes and even underpants. It was horrific." Click full article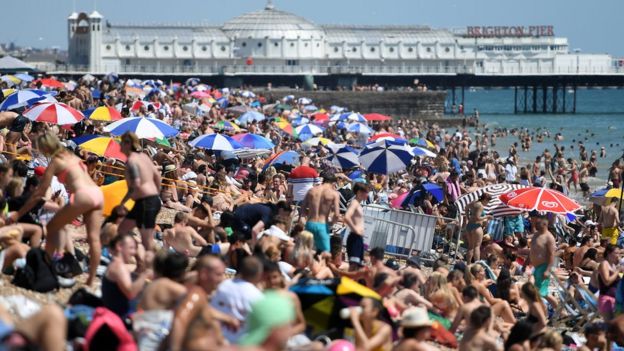 Although the government have the powers to close beaches, they are reluctant to do so. Instead, they are appealing to everyone who does decide to go to the beach to observe that social distancing and stay within their family. England's chief medical officer Professor Chris Whitty said that distancing remained vital and warned Covid-19 cases "will rise again" if rules are ignored. Click for full BBC article
Celebrations in Liverpool on Thursday and Friday evenings have seen large mass gatherings in the City following their confirmation as football league champions for the first time in 30 years.
Whether there will be a spike in coronavirus cases remains to be seen. Overall daily cases appear to be rising and the daily death rate remains between 100-200 per day.