Brazil's leaders must take immediate action to save the country's indigenous peoples from a Covid-19 "genocide",a global coalition of artists, celebrities, scientists and intellectuals has said. In an open letter to the Brazilian president, Jair Bolsonaro, figures including Madonna, Oprah Winfrey, Brad Pitt, David Hockney and Paul McCartney warned the pandemic meant indigenous communities in the Amazon faced "an extreme threat to their very survival".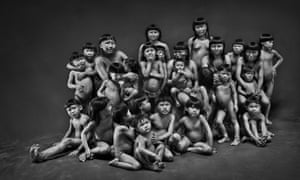 The organiser of the petition, the Brazilian photojournalist Sebastião Salgado, said trespassers including wildcat gold miners and illegal loggers must be expelled immediately from indigenous lands to stop them importing Covid-19 -"We are on the eve of a genocide," Salgado, who has spent nearly four decades documenting the Amazon and its inhabitants, has warned that 300,000 indigenous people face annihilation. Click full Guardian article
This petition was sent in early May when the number of deaths in Brazil from covid-19 was 6750. The number of deaths passed 50,000 this weekend, and Brazil reported a new 24-hour record for new coronavirus cases of 54,771 on Friday, pushing the country's total to over 1 million confirmed cases. According to a University of Washington tracking model, Brazil could surpass the US with the highest number of coronavirus deaths in the world as early as August 1. The model predicts that the death toll could break the 100,000 mark in less than a month.
Experts say the number of actual cases in Brazil is likely significantly higher. Alexandre Naime Barbosa, a medical professor at the São Paulo State University, told NBC News that he believes there is "under-reporting of a magnitude of five to 10 times." The spread of the virus poses a particularly serious threat to Brazil's most socioeconomically vulnerable populations. The health care system is poorly equipped to provide adequate care to most people in the favelas, and coronavirus is an added factor that is leading to the poor and the extinction of indigenous groups.
Experts say that much of the current crisis can be attributed to Bolsonaro's leadership style and policy decisions. Bolsonaro has consistently downplayed the virus, calling it a "little flu" and arguing that Brazilians are well-suited for it because they can be dunked in sewage and "don't catch a thing." The president has also frequently defied social distancing guidelines from his own administration, encouraged massive rallies, and has opposed lockdowns initiated by governors of states, accusing them of exploiting the pandemic for political gain. In other words, much as Trump's rhetoric about the virus has done in the United States, Bolsonaro has turned the coronavirus crisis in his country into a polarizing culture war. Click for full Vox article
The timeline of coronavirus in America has been well documented in this blog. Yesterday, June 21st – the longest day, cases rose to 2.356 million and deaths exceeded 122,000, with the total number of tests approaching 28.5 million (8.6% of the population.
There are many reasons the US death toll is so high, including a national response plagued by delays at the federal level, wishful thinking by President Trump, the sidelining of experts, a pointed White House campaign to place the blame for the Trump administration's shortcomings on others, and time wasted chasing down false hopes based on poor science. A detailed timeline appears in this Vox article.
There have been a number of recent articles online regarding the genocide question. Gregg Gonsalves — an epidemiologist at Yale School of Public Health took to Twitter to postulate on the President's management of the pandemic : "So, what does it mean to let thousands die by negligence, omission, failure to act, in a legal sense under international law?" Click full article.
Also today in Newsweek, a defense analyst and genocide expert has published a warning about the direction of American society and politics in the age of President Donald Trump, identifying characteristics that may one day facilitate atrocities against minority groups. Brynn Tannehill—a former naval aviator who is now an academic and trans rights activist—posted a Twitter thread on Thursday setting out the early genocide warning signs, noting that the U.S. was still some way from catastrophe but that the nation's direction is deeply concerning. Click full Newsweek article