Tensions over Britain's attitude to race and heritage have heightened, with fresh attacks on statues. Tens of thousands of people have waded into the debate over statues of historical figures linked to slavery and racism that has raged since the weekend, signing petitions for and against a growing number of plans for their removal.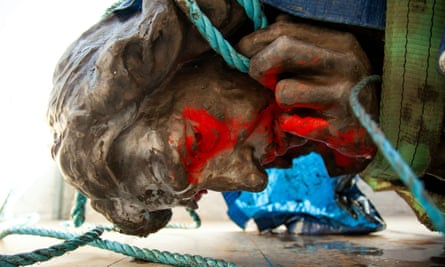 In Bristol, where a statue of 17th-century slave trader Edward Colston was toppled at the weekend, bleach or another corrosive substance is suspected to have been thrown over a memorial to the black playwright, poet and actor, Alfred Fagon.
In Poole, a council announced plans to remove a statue of the founder of the Scout movement amid concerns it would be targeted by anti-racism activists – but these were thwarted when it was surrounded by dozens of local people.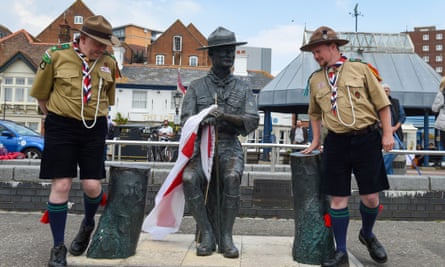 The Baden-Powell statue in Poole. Photograph: Finnbarr Webster/Getty Images
Former scouts were among those who formed a ring around the statue of Robert Baden-Powell, who died in 1941 and has been accused of racism, homophobia and support for Adolf Hitler. Baden-Powell is among those added to a growing "hit list" of nearly 80 statues across the UK, as anti-racism action grew following the police killing of George Floyd in Minneapolis on 25 May.
London's Guy's and St Thomas' NHS foundation trust said that two statues at its hospitals would be taken out of public view due to their association with the slave trade. Thomas Guy, the founder of Guy's hospital, invested in the South Sea Company, which was also involved in the trade.
The debate over the UK's historic monuments and statues has played out in online petitions, with tens of thousands calling to remove or keep them. Almost 15,000 people signed a petition to retain the statue of Baden-Powell.
Many of the statues and monuments have appeared on the website Topple the Racists, which includes 78 targets across Great Britain, from Lord Kitchener's memorial in Orkney to the statue of Francis Drake in Plymouth. The website aims to highlight the "complicity and history of empire and slavery". A statement says: "Statues are exercises of public adoration. And Edward Colston made his fortune in the slave trade. He was part of a system of mass murder, torture and human suffering. We must learn from, not venerate, this terrible chapter in British colonial history."
The monument of slave owner Thomas Picton in Cardiff is the latest to be facing removal. Calls have been made to display it in a new purpose-built slavery museum. Cardiff council said it would debate the future of controversial monuments "at the earliest possible opportunity".
Camera, Lights, ……..non Action
A number of films and TV shows, including Gone with the Wind and Little Britain, are beginning to be banned from TV channels and streaming platforms amid the Black Lives Matter movement.
Gone with the Wind has been temporarily removed by streaming service HBO Max due to the "racist depictions" in the film, while Cops will no longer air on Paramount, and Little Britain has been permanently removed from its steaming sites. TV platforms are beginning to re-consider the prejudices within old programmes available to watch today and are taking action in the wake of the Black Lives Matter movement.
An episode of classic sitcom Fawlty Towers has also been pulled from a streaming site of its use of racial slurs. Over 45 years after it first aired, 'The Germans' episode has now been made temporarily unavailable by UKTV – a BBC owned streaming service – while it carries out a review of its content.
John Cleese has laid into the "cowardly and gutless" BBC after an episode of Fawlty Towers was temporarily removed from a BBC-owned streaming platform. In it, the Major uses highly offensive language, and Cleese's Basil Fawlty declares "don't mention the war". Cleese wrote on Twitter: "The BBC is now run by a mixture of marketing people and petty bureaucrats."
He added: "I would have hoped that someone at the BBC would understand that there are two ways of making fun of human behaviour. "One is to attack it directly. The other is to have someone who is patently a figure of fun, speak up on behalf of that behaviour."Skip Twitter post by @JohnCleeseJohn Cleese✔@JohnCleese
He went on to compare the situation with that of Alf Garnett, the racist character in sitcoms Till Death Us Do Part and In Sickness and in Health. "We laughed at Alf's reactionary views. Thus we discredited them, by laughing at him," Cleese wrote.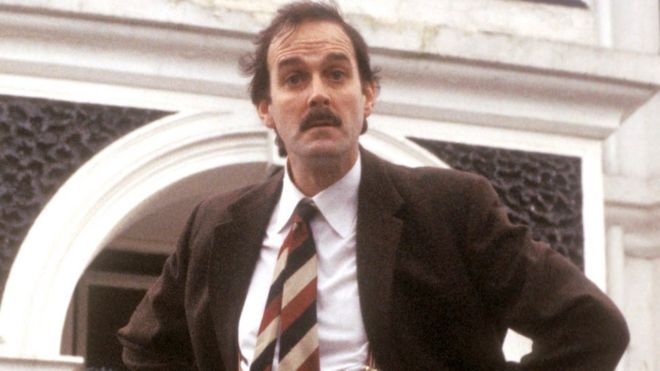 "Of course, there were people – very stupid people – who said 'Thank God someone is saying these things at last'. We laughed at these people too. Now they're taking decisions about BBC comedy." He continued: "But it's not just stupidity. The BBC is now run by a mixture of marketing people and petty bureaucrats. It used to have a large sprinkling of people who'd actually made programmes. Not any more. "So BBC decisions are made by persons whose main concern is not losing their jobs… That's why they're so cowardly and gutless and contemptible. I rest my case."