Boris Johnson today chaired a vaccine summit urging world leaders to raise $7.4 billion (£5.9 billion) to distribute vaccines to combat infectious diseases in some of the poorest countries of the world over the next five years.
The money will go to Gavi, the global vaccine alliance part-funded by Bill and Melinda Gates that for more than 20 years has developed and distributed vaccines in some of the world's poorest countries for diseases such as malaria, cholera, and measles. The money is designed to immunise an additional 300 million children and prevent as many as 7m deaths, according to Dr Seth Berkley, Gavi's CEO . He said: "One of the targets is to focus on the 10% of children still not being immunised, two-thirds of whom are below the poverty line, often in conflict zones or urban slums."
However, it has been reported that the number of collateral deaths worldwide, as a result of the cessation of vaccination programmes to prevent the spread of coronavirus, could exceed the death toll of covid-19 itself.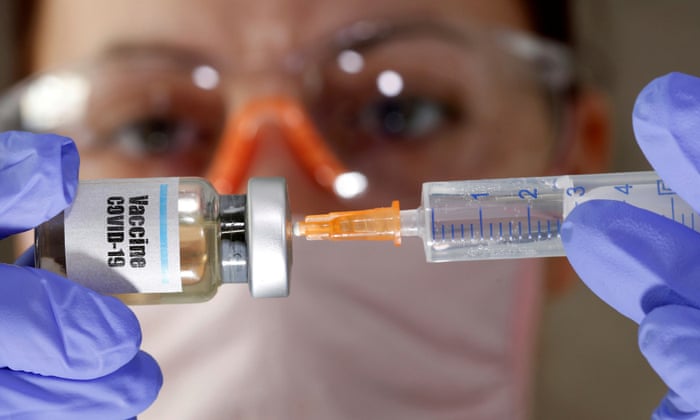 The estimated world cost of the Covid-19 pandemic is $9 trillion , and we are only asking for billions of dollars, so although that is a lot, in the wider context it is a small price to pay. "The world needs to cooperate on coronavirus vaccine since if every high income country backed a single vaccine on its own, they are taking a risky bet. The a priori chance of any vaccine succeeding is about 5%."
Bill Gates told the BBC that pharmaceutical companies were co-operating with Gavi to ensure the production of a selected vaccine was expanded in record time by agreeing their factories will manufacture one even if the selected vaccine chosen for production was not their own. The higher the volume of vaccine production, the less conflict was likely about its allocation, he argued.
"If you have only one factory and it is only making 300m doses a year then the scramble for that would be very difficult and you have many criteria for distribution, including who has funded the work and where the epidemic is the worst," Gates said. "If you can get 10 of those factories and get 3bn doses a year then it is nowhere near so difficult and you might be limited instead by the logistics of getting it out. click full article
Of the 100 or so research projects worldwide racing to produce a vaccine for Covid-19, The University of Oxford is one of the front runners.
About 1,000 healthy 18-55 volunteers took part in Oxford University's phase one trial, but older adults and children are being recruited for phases two and three. Researchers say their research is "progressing very well" and it is ready to be tested on another 10,260 people.
The Government has already agreed to buy 100million doses if it works — with 30million delivered by September. Study leader Prof Andrew Pollard said: "The clinical studies are progressing very well. "We are now initiating studies to evaluate how well the vaccine induces immune responses in older adults and to test whether it can provide protection in the wider population.
However, Prof Pollard warned there are now so few people in the UK with the virus it may take longer for volunteers to be exposed to the bug and for him to get results. here is uncertainty about how many cases there will be over the next three months. "If there are cases, then it is certainly possible by the autumn to have a result, and that is what we are hoping for, but it is not possible to predict." Click for for full article
Summary – Despite over 100 research teams trying to find a vaccine for covid-19, there is no guarantee that any will be successful, despite the Oxford trials being very promising. There is even a danger that they will be unable to recruit the 10,000 people needed for phases two and three. Researches have been trying to find a vaccine for SARS for 18 years without success.
The disruption of vaccination programmes for the infectious diseases of measles, malaria and cholera by the coronavirus pandemic threatens far more deaths than the virus itself.