America could be heading towards a guerrilla civil war, fought on the streets of towns and cities across the States.
President Donald Trump has threatened to send in the military to quell growing civil unrest in the US over the death of George Floyd. He said if cities and states failed to control the protests and "defend their residents" he would deploy the army and "quickly solve the problem for them".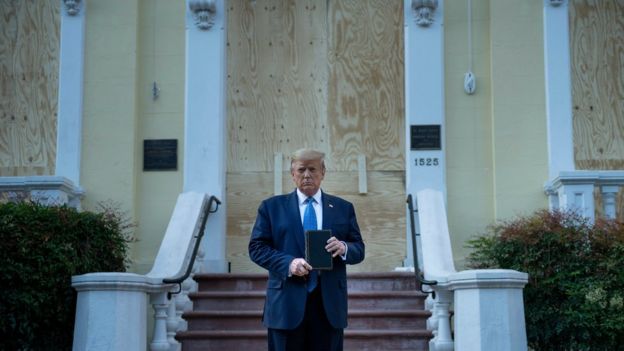 After seven nights of demonstrations, rioting and looting in America, there are already disturbing parallels between the US policing of the George Floyd protest movement and the methods used in Chile. In fact, US police have already committed the majority of abuses that the Chilean police and carabineros stand accused of. Click here for full BBC article
Chile's US backed government responded to anti-neoliberal protests with brutal violent repression, 10,365 people have been detained; 3,765 treated for wounds in hospitals; and 2,122 shot, 445 in the eye according to a conservative estimate by the state-backed National Institute of Human Rights. Thousands of protesters have been maimed and blinded, and these eye wounds have become a symbol of the protest movement in Chile, used in bloody eye-patches, signs, flyers, and memes.
We were in Chile in late February and witnessed a number of peaceful demonstrations, and only saw the aftermath of violent confrontations. Our accommodation was switched at the last minute, as our original hotel had been destroyed by fire in demonstrations.
Soon after the demonstrations broke out, President Piñera proclaimed, "We are at war!" The president's language evoked horrifying memories for many Chileans who lived through the state terror of the Pinochet dictatorship, and for the families of those killed by it.
The United States and allied institutions like the Organization of American States (OAS) have long praised Chile as a shining example of democracy in South America. But the country is still bound to a constitution written during Pinochet's dictatorship. Protesters have demanded a new constitution, and a plebiscite in April could change that, if it is not delayed by the Piñera administration. This obviously did not occur.
A February 18 report by Chile's National Institute of Human Rights (INDH) illustrates the shocking scope of the Piñera government's repression. The institute was created by Chile's legislature with a leadership council appointed by various government figures, including the President himself.
Though the INDH is a state-backed institution, it has endured aggressive intimidation by Chile's national police forces, known as the carabineros. State security forces have at least 14 times threatened members of INDH, according to the group's report. The carabineros have also shot tear gas at the bodies of INDH observers, wounding three with pellets, and preventing them from accessing detainees.
INDH's report accuses the Piñera administration of carrying out the following grave abuses of human rights :
arbitrary detentions of people who were peacefully demonstrating
excessive use of force
aiming at the bodies of protesters and shooting gases at them
shooting pellets at the body, neck, and face of protesters
use of tear gas on children and pregnant women
detention of journalists
deploying undercover police and military forces who did not identify themselves
The state violence has been extreme. Videos circulating on social media have shown some protesters being run over by armoured vehicles. Among the most persistent injury suffered by protesters in Chile is wounds to the eye. Chile's carabineros, or national police, have relied on riot shotguns that are banned in much of the world as a form of crowd control, shooting protesters with clusters of pellets that explode into tiny pieces of shrapnel, cause grave eye wounds.
The National Institute of Human Rights documented 445 cases of protesters suffering from eye wounds in the past four months. Many activists have lost partial or even complete vision in one or both eyes. In 25 extreme cases, protesters' eye or eyes completely burst. And in nine cases, protesters lost an eye completely; it was removed from their head.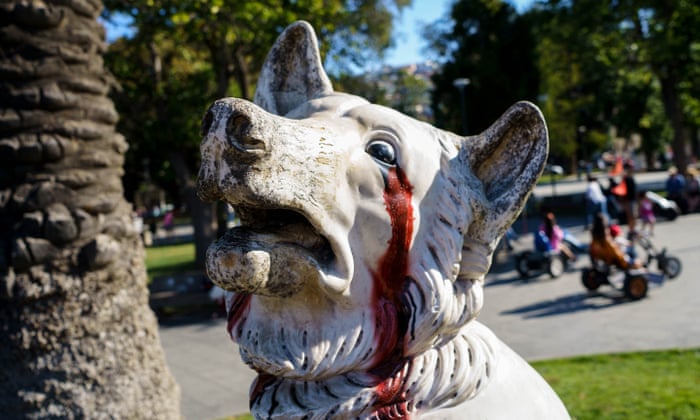 "As the National Institute of Human Rights we are concerned," the body said, "that we continue receiving complaints and observing the existence of eye injuries, regarding people who were exercising their right to peacefully protest."
Staunch support for repressive Chile from the USA and OAS
1312 legal cases have been filed in Chile's justice system in response to the ongoing state repression. But with Piñera government firmly in power, with powerful allies abroad, justice remains elusive.
When Piñera was forced in October to cancel international conferences that were to be held in Chile, US Secretary of State and former CIA director Mike Pompeo said that he understood the decision. "We applaud the leadership Chile has shown," Pompeo said, "and are committed to advancing our shared goals."
Pompeo made this comment two weeks into the protests in Chile, while the right-wing government was wounding and detaining thousands of protesters. Throughout the violence, the US secretary of state kept quiet.