Yes, they certainly have in our case. Call us irresponsible, but as an act of civil disobedience we today drove from Newport (South Wales) to Bristol (England), to see family (aged parents, daughter and grand-children, breaking the regulations of two of the four nations of the UK. We had not set foot in England since March 10th, when we flew from Bristol to Malaga, Spain. The distance of 30 miles each way was similar to the trip DC took on Easter day to test his eyesight.
It was great to see everyone, and we first sat in the garden (via side gate) of aged parents, fully observing social distancing rules and did not enter house. On to a picnic with a daughter and grand-children in the grounds of Ashton Court in Bristol, where they hold the balloon fiesta. Full social distancing throughout. We plan to drive to England tomorrow (Sunday 31st May) to visit more family.
The words above are mine, but the words below are those of 29 prominent professors and academics :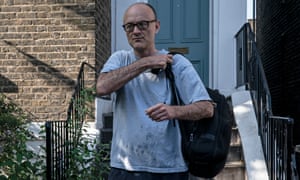 "This trust has been badly damaged by the actions of Dominic Cummings, including his failure to stand down or resign in the public interest, and Boris Johnson's subsequent unwillingness to remove him.
As lockdown is eased, public trust and high compliance is essential to reduce the risk of a second spike in infections and deaths. It is vital for all people in positions of power to follow the rules with the same discipline as the rest of the population. The public also needs to see that the necessary infrastructure and effective systems are put in place rapidly and effectively.
A national track and trace scheme is a major undertaking. This makes it even more crucial that there is complete transparency about likely time scales and the risks associated with the strategy and plan. The public mood is fragile and unlikely to cope with another over-optimistic target-based strategy that goes on to fail. We are also concerned that the needs of people primarily affected by non-Covid-19 diseases are being neglected. For example, since the pandemic hit, there has been a 70% or more reduction in cancer diagnoses and there is an estimated backlog of 100,000 undiagnosed or untreated cancer cases (growing by about 5,000 a week). Similar backlogs are evident in every non-communicable disease."
Click for full Guardian Full article and named academics.
Click here for article on shambles of "World-beating" Test and Trace system
I accept that my £20 bet of 11/4 against DC to remain in post @ June 1st is lost. Betfair suspended betting yesterday when it was 1/20 for DC to remain in post. However, this is just temporary, and his authority and that of his master Boris Johnson have been severely undermined. "Unlike Trump and Johnson, Cummings is not trying to fool the public, but fool the fool who employs him – not the hardest of tasks, I grant you. He sinks to the level of the petty cheat because he must convince Johnson that he is a political mastermind".(last reference is about manipulating his blog to "validate" his claim that he predicted coronavirus last year, when in fact he inserted the reference this year after returning from Durham). Click here for context of quote. His day will come. Those who live by the sword, die by the sword.