Boris Johnson has pledged his complete support for Dominic Cummings over a trip to a distant family home during the peak of the lockdown, using a Downing Street press conference to insist his chief adviser "acted responsibly, legally and with integrity".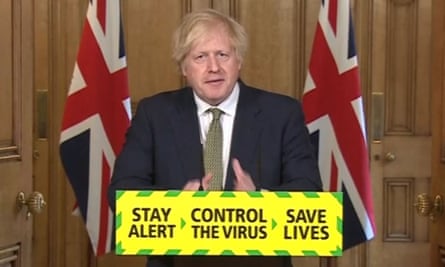 John Crace , Guardian sketch writer captures the mood of the Press briefing : full article
No dignity, no future: Boris forsakes leadership to protect Cummings
Look on the bright side: at least we've had it confirmed who is actually running the country these days. And it isn't the prime minister. Boris Johnson is no more than Dominic Cummings's sock-puppet. A fairly shabby one at that. The reality is that without Classic Dom, there could be no Boris. All that Boris really amounts to is a parasitical ball of compromised ambition fuelled by a viral overload of neediness and cowardice. There is no substance or dignity left within the prime minister. His only instinct is his own survival.
In saving Dom – for the time being at least – Boris had tossed away the credibility of his own government. He has been stripped bare and exposed as not very bright, lacking in judgment and completely amoral. Within an hour, he had not only defended the indefensible, he had basically told the nation they were free to do as they please. If there is a second coronavirus peak, Boris will have even more blood on his hands. He'd even made Shapps's TV appearances look vaguely statesmanlike. That bad. At a time of national crisis, we have a prime minister who makes Henry Kissinger look worthy of a Nobel peace prize. Satire is now dead.
Update : even the Civil Service are not happy :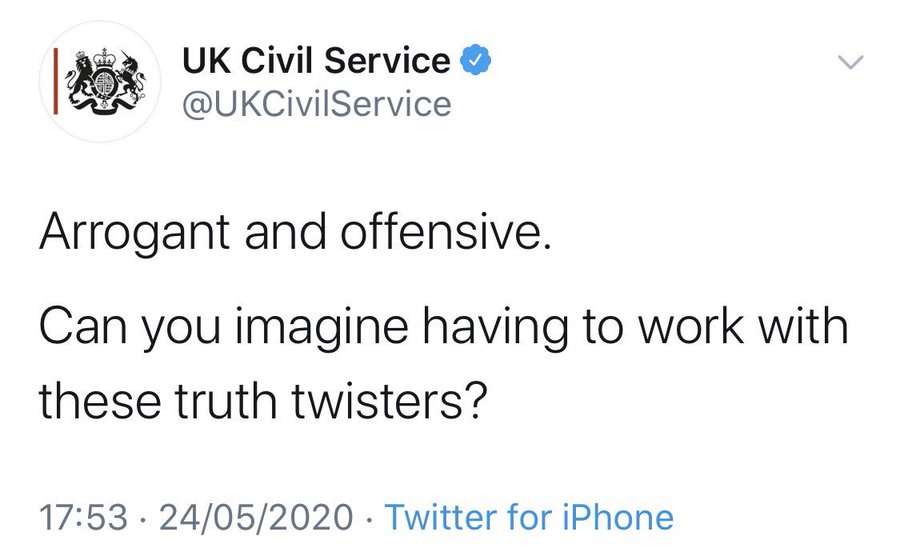 Following the PM's Downing Street press conference this was tweeted from the official Civil Service account. It was 11 minutes before it was deleted. Looks like someone will be resigning after all…
Could Mark Sedwill, the head of the Civil Service who is famously at loggerheads with Dominic Cummings, have got his Whatsapp and Twitter accounts muddled? It was posted from an iPhone which suggests it was from an existing user. It will be relatively straight forward to identify the tweeter…
UPDATE: Sense of humour failure:Cabinet Office✔@cabinetofficeuk
An unauthorised tweet was posted on a government channel this evening. The post has been removed and we are investigating the matter.10.8KTwitter Ads info and privacy21.1K people are talking about thisCivil ServiceDowning StreetTwitterTwitteryBoris JohnsonDominic Cummings May 24 2020 @ 18:03