The European Commission says companies and workers won't get back to business-as-usual until there's a vaccine or a cure for Covid-19. They have published a roadmap for a partial lifting of restrictions in an effort to mitigate the economic devastation brought about by lockdown measures.
The roadmap, unveiled by Commission President Ursula von der Leyen on Wednesday 15th April, seeks to coordinate a gradual exit from the lockdowns that the bloc's 27 member states imposed last month to slow the spread of coronavirus.
The commission has warned that the easing may be temporary as it will "unavoidably" lead to spikes in new cases that could threaten healthcare systems again, and lead to a reinstatement of the confinement rules.
The commission has been consulting with national Governments and its plan echoes the approach already adopted by countries such as Austria and Denmark.
The following conditions must be in place before easing "Lockdown" emergency measures:
Infections have decreased significantly for a sustained period of time
Hospitals have enough beds, intensive care units, medicines and equipment, including PPE (personal protective equipment)
Have a plan for large-scale testing capacity, monitoring the spread of the virus, and tracing and quarantining asymptomatic carriers of the virus.
Once those conditions have been met, Governments should gradually ease restrictions along the following principles:
Create a system for tracking contact between people using mobile apps that can warn if someone nearby is infected.
Maintain social distancing measures
Drastically expand testing — widespread testing is a "precondition for lifting social distancing measures in the future" and for contact tracing applications to work
Protective measures for older people should remain in place for longer
Gradually lift travel and border-crossing restrictions, starting with journeys "between areas with comparably low levels of risk"
Incoming travel from non-EU nations will be phased in later, depending on the situation in each country
Return to work must also be gradual and not all personnel should be allowed back to offices at the same time.
Remote working should still be encouraged and initially only less risky groups and sectors essential to economic activity should to return
Gatherings of people should be progressively permitted, with restrictions:
Schools and universities can re-open with social distancing measures, such as different lunch times, enhanced cleaning, smaller classrooms and more e-learning
Commercial activity can be phased in with restrictions on the numbers allowed in shops, bars, cafes and restaurants can follow with restricted opening hours and limited numbers allowed in
Member states should keep each other informed of their plans and take into account the situation in neighbouring countries to minimize the risk of cross-border infections
Member states are asked to be ready to tighten measures again if the number of cases starts to threaten health-care systems.
Data source Bloomberg 15th April 2020
I would suggest that the UK signs up to this Roadmap during the Brexit transitional period up to 31st December 2020, and hopefully beyond that date, As this is unlikely, the UK should at least adopt a similar plan, and have a public debate as to its contents over the next three weeks of Lockdown. There is no mention of public transport, air travel or hotels re-opening, so I guess it is unlikely that holidays abroad will be possible anytime soon.
Social Distancing for over 2 years ?
Researchers at the University of Harvard recently published an article in the journal "Science", suggesting that prolonged or intermittent periods of social distancing may be required for two years into 2022, in order to prevent future seasonal outbreaks of Covid-19.
They projected that a Winter outbreak "will probably" occur after this Spring's initial, "most severe" outbreak, and it is possible that critical care capacities could again be overwhelmed and unable to provide treatment for new waves of Covid-19 patients.
The authors suggest that these measures could improve the acquisition of herd immunity, but even in the event of apparent elimination of Covid-19, surveillance should be maintained, as a resurgence of the virus could be possible as late as 2024.
Full article : https://science.sciencemag.org/content/early/2020/04/14/science.abb5793
This article indicates the scale of the problem faced by the implementation of the European roadmap plan. However, the USA has unveiled new guidance for the opening of State economies. This recommends three phases of slowly re-opening businesses and social life, with each phase lasting a minimum of 14 days.
 It includes some recommendations across all three phases including good personal hygiene and employers developing policies to ensure social distancing, testing and contact tracing.Dr Anthony Fauci, from the White House coronavirus taskforce, cautioned that even as restrictions were eased "it's not game over".He warns that the virus may rebound, and there could be setbacks along the way.
Source – https://www.bbc.co.uk/news/world-us-canada-52330531
As of yesterday April 17th, the USA reported 2,535* new deaths with a total of 37,154* and rising. In a separate BBC report, the number of deaths reported yesterday was 4,591**, exceeding Germany's total death toll. The federal guidance therefore appears to be premature, although there are increasing protests in some States for the Lockdown measures to be lifted immediately. Trump is not helping with his incendiary tweets eg "LIBERATE MICHIGAN", "LIBERATE VIRGINIA" , "LIBERATE MINNESOTA" , all with Democratic Governors. States with Republican Governors such as Ohio and Utah where there have also been protests have NOT been tweeted !!
* data source : https://www.worldometers.info/coronavirus/
** data source : https://www.bbc.co.uk/news/world-us-canada-52330531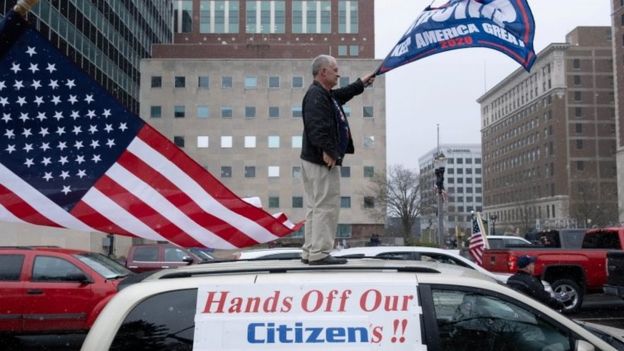 Source – https://www.bbc.co.uk/news/world-us-canada-52330531