Continuing yesterday's theme of the Elderly and the huge number of care home residents dying from Covid-19, the Government has pledged that all care home residents and staff with symptoms will be tested for coronavirus as laboratory capacity increases.
The sting is in the tail, as testing capacity is only increasing slowly, proportionately well behind the Government's target of 100,000 per day by the end of April.
Unlikely Hero
On a positive note, 99 year old Captain Tom Moore has become an internet sensation, raising over £7 million to help the NHS in the fight against Covid-19. He planned to walk 100 laps of his garden before he turns 100 years of age on April 30th. Captain Tom, who lives with his family in Bedfordshire, had hoped to raise £1,000 for the NHS when he started the challenge last week.
Walking with the aid of a frame, he has vowed not to stop at 100 laps, and plans to walk another 100 laps of his garden if he can.
as of Wednesday afternoon 15th April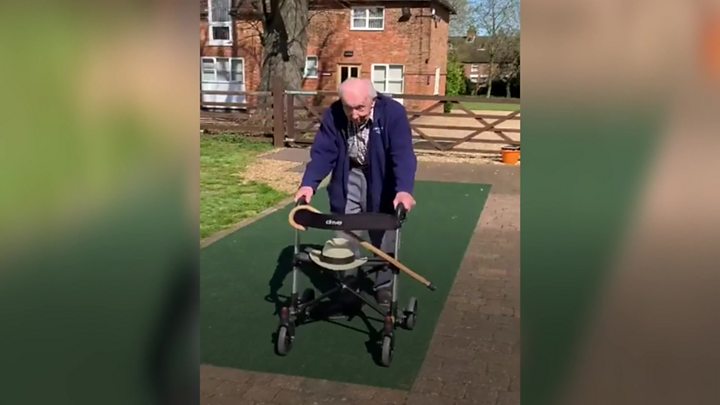 NHS Charities Together, which will benefit from the funds, said it was "truly inspired and humbled".
NICE guidance on COVID-19
NICE published three rapid guidelines on the care of people with suspected and confirmed COVID-19, and in patients without COVID-19 last week.
These guidelines have been developed to maximise patient safety whilst making the best use of NHS resources and protecting staff from infection.
For patients with confirmed COVID-19, the guideline says decisions about admission to critical care should be made on the basis of medical benefit, taking into account the likelihood that the person will recover to an outcome that is acceptable to them and within a period of time consistent with the diagnosis.
Other guidance published is on the delivery of systemic anticancer treatments and balancing the risk from cancer not being treated optimally versus the risk of becoming seriously ill if they contract COVID-19 because of immunosuppression.
A third guideline on dialysis says that patients with suspected COVID-19 should be assessed to see whether dialysis could be delayed until their COVID-19 status is known. I
Further guidelines will be announced in due course but are likely to include: symptom management; patients receiving radiotherapy; and patients with rheumatoid arthritis. NICE will publish new guidelines each week until the full set has been completed, based on the priorities for patients and the NHS.
https://www.nice.org.uk/guidance/ng159
NHS Chart that will decide whether you receive ventilation if you need it
There are a series of charts that the NHS now uses to determine whether patients will receive ventilation if you need it. I decided to follow the chart to see where I stand, although I think I already know the answer.
Basically, nobody outside the green zone will be considered for ECMO (extra corporeal membrane oxygenation) ie put on a ventilator.
My Covid-19 Decision Support Tool Score
Age : 73 year old male 4 points
Frailty Score (see NICE chart) Very fit (for age) 1 point
Co-morbidity Chart hypertension 1 point
Total 6 points
Very surprised at the result, but as you see in the traffic light chart above, you have to be below 60 years of age to qualify for the green treatment zone.
This demonstrates why there are large numbers of deaths in nursing and care homes from Covid-19, as they do not meet the criteria for referral to hospital.